6 Ways to Lower Shopping Cart Abandonment Rates
Time to read:
4
minutes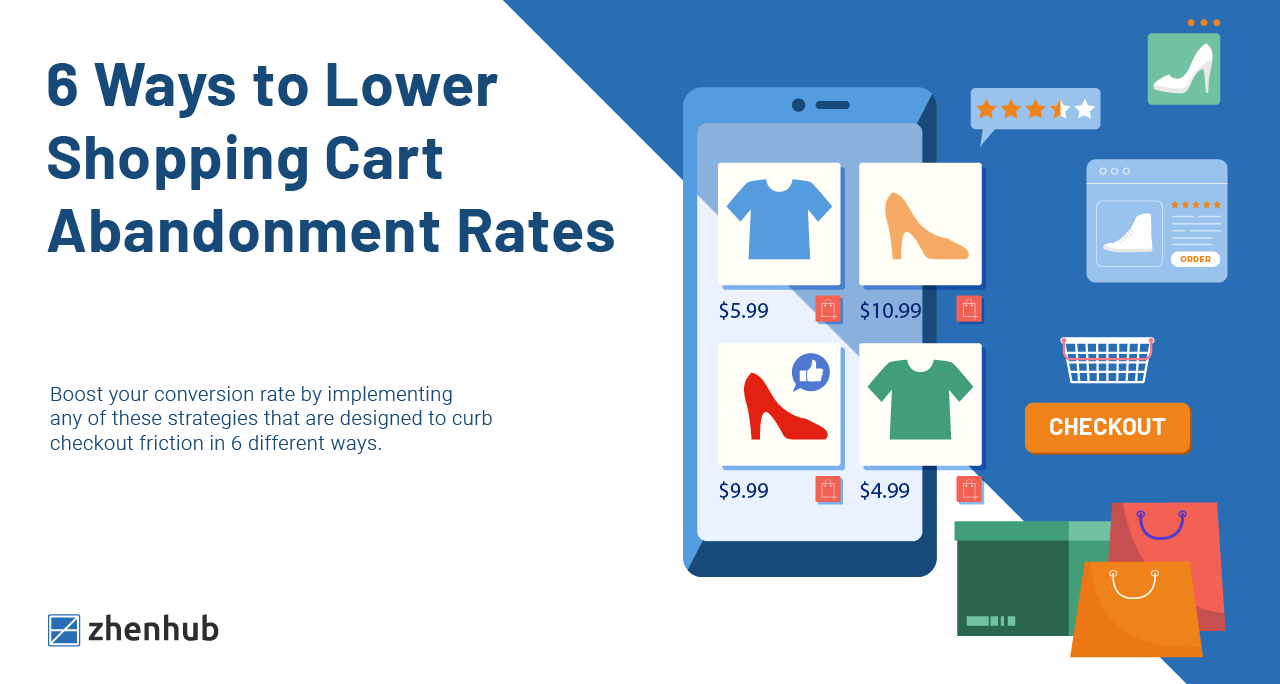 What is shopping cart abandonment?
Shopping cart abandonment is a term used in eCommerce to describe when consumers add items to cart only to drop off the site without completing the purchase. It is one of the biggest challenges retailers face. In fact, according to a study done by Finances Online, retailers lose around US$4 trillion yearly from abandoned shopping carts.
Common Reasons for Shopping Cart Abandonment and Ways to Combat It
Before a merchant can implement strategies designed to lower cart abandonment, the first thing to do is to understand the reason behind the friction. Knowing the factors that cause checkout friction will enable sellers to address specific pain points effectively. Listed below are the top six triggers that lead to shopping cart abandonment:
Unexpected Additional Fees

It is much more difficult for retailers to gain consumers' trust when the whole shopping experience happens online. Buyers expect complete transparency, so it only makes sense that hidden costs are the number one driver of abandoned online carts. Typical unexpected charges include shipping, taxes, or complementary items they suddenly need to purchase together.

Solution: Have a transparent pricing structure
Retailers must state all charges from the outset. Being clear on shipping fees, import duties, special packaging charges, and other costs from the very beginning is something consumers will appreciate. Merchants must refrain from only displaying additional fees the moment a user is about to checkout.

Forced Sign Ups

A complicated and lengthy checkout process can turn off potential buyers. Research conducted by Barilliance reveals that 22% of online shoppers would instead leave their carts when a brand requires them to create a new account to complete a transaction. Merchants must remember that convenience is one of the main advantages of eCommerce over traditional retail, so a complex shopping experience will only be a conversion killer.

Solution: Enable Guest Check-Outs
While there are still many ways retailers can encourage users to sign up, enabling guest checkouts is better for online conversion. Instead, merchants can offer special deals and discounts to registered users, but creating an account should definitely not be mandatory.

Payment Security Concerns

Online shopping transactions require sensitive information from buyers — their personal and credit card details. If a merchant's website or the digital store does not have any trust logos or obvious security measures set in place, they are more likely to drop off and explore competitor brands.

Solution: Invest in Basic Cybersecurity
To make consumers feel more confident in giving out personal and payment information, retailers must invest in cybersecurity. Purchasing basic web security like an SSL certificate will allow secure connections and activate the green padlock on an online store's domain — an instant seal of protection for buyers.

Limited Shipping and Payment Options

An online store can reach a far broader target market than the traditional brick-and-mortar. This is a reality that retailers often neglect when deciding on available payment and shipping methods. The inability to know and support the most common payment and delivery options can lead to higher shopping cart abandonment rates.

The Solution: Expand Shipping and Payment Methods
Retailers should know their target market well enough to identify their preferred or typically used payment methods. Partnering with trusted payment gateways will also make it easier for both merchants and buyers to complete transactions. In terms of eCommerce shipping, expedited delivery options should be made available for shoppers willing to pay additional fees just to get their orders faster.

Vague or Unfair Returns and Exchange Policy

Shopping online comes with a lot of uncertainties for both retailers and buyers alike. When provisions surrounding purchases, such as the Returns and Exchange Policy, seem ambiguous or too seller-centric, buyers are more likely to abandon their carts. Consumers need to know that when a product arrives in less than stellar condition, they have the right to return or exchange it.

The Solution: Direct and Fair Returns and Exchange Policy
As with anything eCommerce-related, transparency is vital. Merchants must be upfront about their policies when it comes to refund and product exchange requests. Determine the common issues consumers face when shopping online; wrong items delivered and missing orders are just some examples. A fair policy will protect a seller's business but, at the same time, address customer concerns.

Terrible Customer Support

Lack of reliable and prompt customer support can also lead to higher shopping cart abandonment rates. A LivePerson study was a testament to this when their research revealed that 83% of consumers need some sort of support while shopping online. There are times when a shopper only needs a question answered before deciding to purchase, so retailers with poor customer service risk losing business.

The Solution: Maximize Support Channels
Merchants can take advantage of technology by using chatbots to respond to frequently asked questions. It is also best if an online store has a dedicated team of support specialists responsible for answering highly-specific inquiries and concerns. Good customer support is about promptness, accuracy, and personalization.
Bonus tip: Track and monitor. An online retailer implementing all six strategies is not guaranteed to experience lower shopping cart abandonment. At the end of the day, the best approach to understanding online shopping behavior is for merchants to analyze what works well with their audience. By identifying what triggers them to abandon their cart, retailers gain better and hyper-specific data to help them develop the most efficient and effective methods to combat low conversion rates.

You can trust ZhenHub to help you deliver. We offer cutting reliable order fulfillment and warehousing, as well as inventory management. Our team would love to hear your requirements, so send us a message now!
Share Article