Apple iOS 14 Release Can Limit Entrepeneurs' Facebook Ad Targeting Capabilities
Time to read:
5
minutes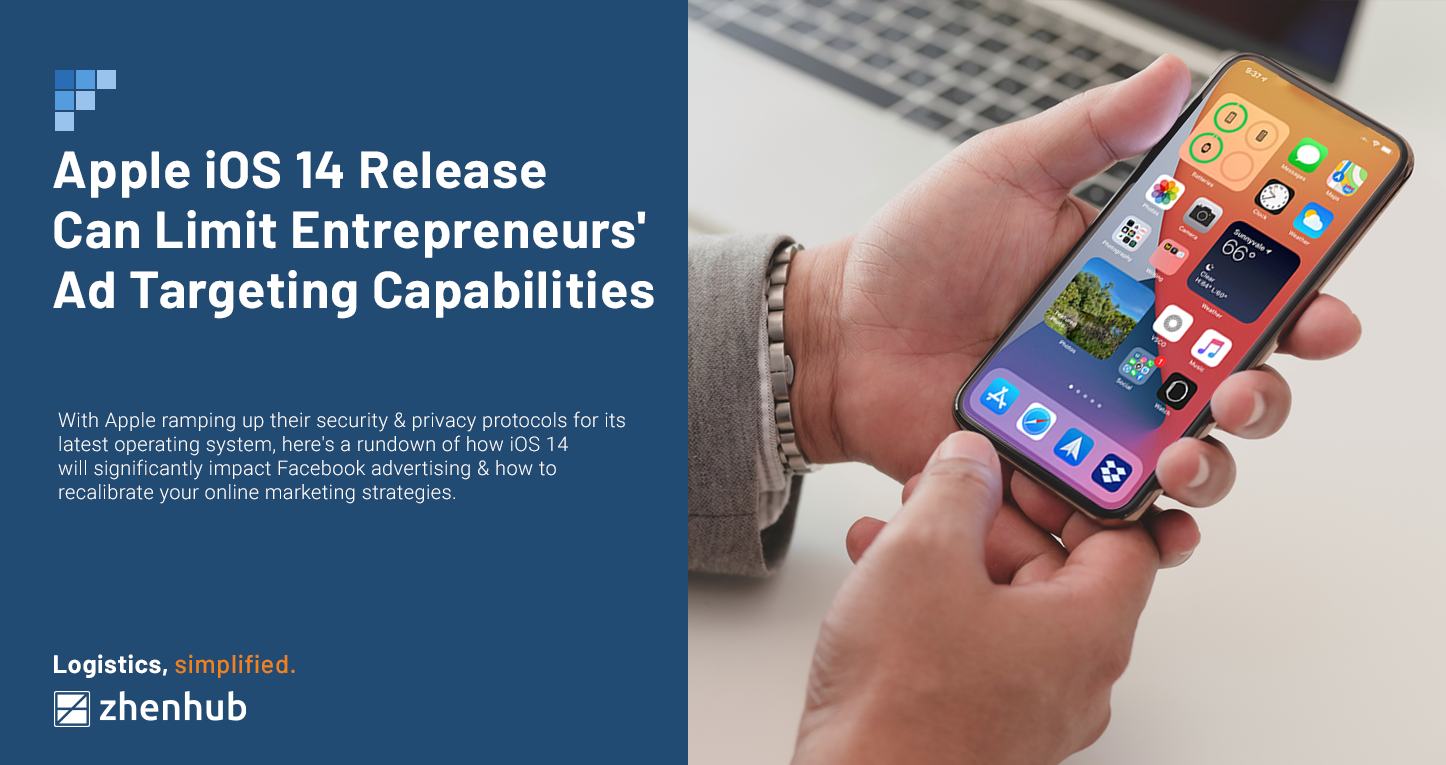 In Apple's 2020 Worldwide Developers Conference or WWDC, the company announced changes on the upcoming iOS14 update that significantly impacts data tracking permissions. This data privacy shift affects how advertisers use social media platforms to target their audiences. At the time of writing, the tech giant has yet to provide an exact date for the Apple iOS 14 roll-outs. Apple postponed the launch to provide advertisers, publishers, and developers more time to pivot their operations. Nevertheless, the download should be available by 2021.
While this is good news for users who don't want their information and buying behavior shared, companies are in an uproar.
Social media platforms, Facebook, in particular, expressed their criticism regarding the upcoming roll-out. The company said it could limit how companies market themselves and even monetize ads. This new Apple policy could also potentially impact the projected $6.5 trillion retail eCommerce sales worldwide.
While the world waits with bated breath, Facebook took out a full-page ad in The Wall Street Journal, The New York Times, and The Washington Post expressing their concerns about Apple iOS 14 – claiming that the updates threaten not only small businesses but free internet as a whole.
This article discusses specifics about the update, and the best practices eCommerce platforms can do to manage the effects of the data limitations brought on by iOS14.
Updates on Apple iOS 14
As part of the Apple iOS 14 update, Apple intends to empower its users to block IDFA identifiers at the app level. IDFA, or Identifier for Advertisers, is a unique ID made specifically for mobile devices. Data from mobile devices are tracked and measured through the IDFA. Once this new update happens, a prompt will ask users for their permission to collect and share their data upon downloading an app.
Previous software iterations allowed users to "opt-out" of data sharing. On the other hand, this new data privacy update gives users the option to block applications from sharing their unique identifier to applications at the onset. At present, 70% of users share their IDFA with app publishers. Only 10% to 15% of users will allow apps access to their data with the update.
Moreover, the update would require new applications on the Apps store to divulge information regarding their privacy practices. Through the App Store Connect, app publishers need to describe:
What specific type of data they intend to collect
How they will use the data
Whether the data tracks users
Users would have access to information about their data once the Apple iOS 14 data privacy updates are wholly in place. They can access an app's privacy details in an upcoming "App Privacy" button.
How it Affects Facebook Ad Targeting
There is still much that is unknown about the ramifications of Apple's iOS14 data privacy updates. While the updates have yet to be rolled-out, industry experts are already placing their bets on how the limitations can affect ad targeting. Facebook says that it could impact how businesses monetize the app with Audience Network. They said they saw more than a 50% drop in Audience network publisher revenue in their testing if Apple cut personalization from mobile app ad install campaigns. Facebook says that this could very well spell the demise of small businesses to survive the pandemic.
Loss of Personalization
Personalization is a vital part of targeting the right audiences on Facebook. That said, the Apple iOS 14 update would significantly limit the information advertisers, publishers, and developers would use to craft compelling ads.
According to a Facebook study, businesses see a sales loss of 60% when they create ads without using their data to find customers. As such, the privacy updates would force advertisers to blindly place ads and wait and see what clicks — just like what businesses used to do with TV commercial placements. It's antiquated and hard to track.
Inability to Retarget Ads
Retargeting campaigns are incredibly useful in bringing in new leads. These campaigns often cost less and convert more. The latest update would significantly impact advertisers' ability to retarget their ads to the right audience. Without a complete data set, small businesses wouldn't reach potential iPhone-user clients. They might lose access to 41% of the market share in the US alone.
Under-Reported Data
The new update affects only Apple users that move to Apple iOS 14. Advertisers and small businesses can still collect data from Android users, desktop users, and Apple iOS 14 users who don't opt-out of data sharing. That said, there are 100 million Apple users in the United States alone and more than 1.5 billion active devices in the wild.
The update would fail to provide ad creators a clear picture of their target audience. They wouldn't have access to information that would be useful in pivoting and shifting their efforts.
Repercussions on eCommerce Businesses
For the most part, app-based businesses will feel the brunt of the iOS14 data privacy updates roll-out. But in reality, the data-sharing limitations affect the entire industry, not just small companies.
In an open letter, Dan Levy, Facebook's VP for Ads and Business Products, expressed his concern for small eCommerce operations that utilize their ad creation platform in the light of the new updates. According to Levy, the limitations brought on by Apple iOS 14 would curtail the growth of small businesses by making it more difficult for them to reach their target audiences. The loss of personalization and the inability to target specific potential customers may result in a 50% decrease in revenues for SMBs. The open letter emphasizes that it will hobble or incapacitate the already crippled pandemic-affected small online operations.
What Can eCommerce Operations Do About It
Apple has yet to give an exact date for the official iOS14 data privacy roll-out. Before that happens, online retailers need to incorporate new strategies to prepare for the upcoming changes. Here are our recommendations:
Verify Facebook Accounts
Domain verification is a process set-up by Facebook that ensures the integrity of the business page's information. Organizations need to verify their accounts to do ad creation.
Once Apple iOS 14 updates happen, the ad creation process will become more complicated. It is in a retailer's best interest to accomplish this as soon as possible.
Invest in Collecting Email Addresses
Instead of relying on Facebook Pixel for audience data, pivot the focus to collecting email addresses. Creating lead generation ads for collection emails is a good strategy as these are vital to creating lookalike audiences.
Don't Rely On Facebook Alone…
Running ads on Facebook has been the norm in targeting and reaching the right audiences. After all, the social media platform has over 2.7 billion active users. Creating ads on Facebook is an effective way to gain the potential clients' retailers are trying to target. However, Apple iOS 14 will severely impact the effectiveness of Facebook targeting. Retailers should look into different avenues of advertising.
Instead, Improve Order Fulfillment Processes
Order fulfillment plays a vital role in customer retention and loyalty. In fact, 33% of US consumers are willing to switch to another brand after a single negative experience with a retailer.
The limitations brought on by the iOS14 update presents a challenge to most eCommerce platforms in targeting and reaching new customers. Viable leads are harder to come by. As such, it is all the more important for retailers to focus on their order fulfillment process to ensure that all converted leads become loyal customers.
Further details about the Apple iOS 14 data privacy roll-out are still up in the air. Fortunately, you can adapt to the changes. Make your organization agile by diversifying marketing efforts to mitigate the update's effects. And you don't have to implement changes on your own.
Thankfully, we at ZhenHub are here to help pivot your eCommerce operation. With our industry expertise and experience, we'll be able to provide you with insights and solutions to help you thrive in this challenging but exciting time. Sign up and get future-ready today. 
Share Article