The Difference Between Mail and Courier Shipping Services
Time to read:
4
minutes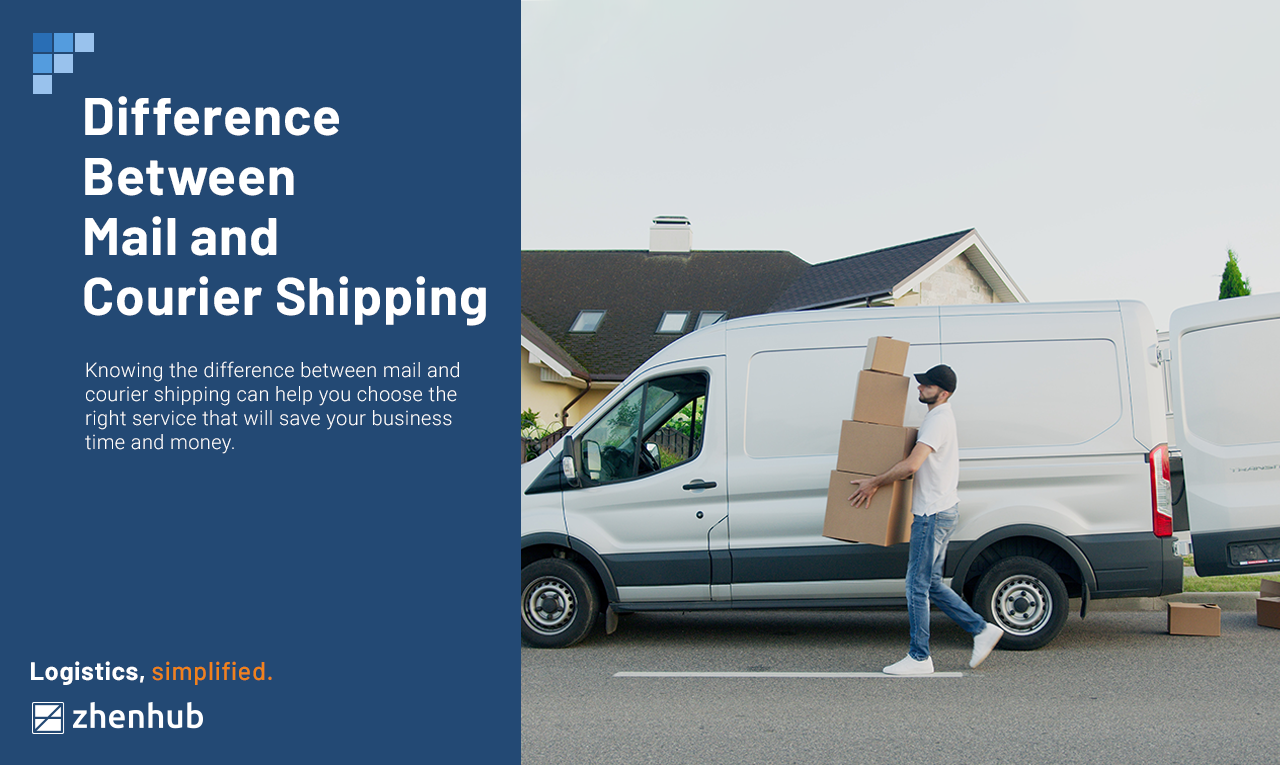 The Difference Between Mail and Courier Shipping
Online retailers have made it possible for consumers to shop from the comfort of their homes. The convenience of getting products delivered right at their doorstep is what they pay for, so it's a merchant's responsibility to ensure it happens the way it should. Given that reliable delivery is an essential factor that can make or break a business, choosing the right eCommerce shipping service is key to success. 
Shipping services have two main umbrellas: mail and courier. Knowing the difference between mail and courier shipping can help retailers determine the right solution for them. 
Ownership
By definition, the main difference between mail and courier shipping services is ownership. 
Government-owned shipping companies provide delivery services such as Mail or Postal Services. Examples of mail services are United States Postal Service (USPS), Royal Mail, and China Post.
There are still many businesses and individuals who prefer to use postal services to ship important documents and parcels. Corporations that require routine communications and correspondence between customers, clients, and business partners still use them up to this day. 
Private firms, on the other hand, own Courier Services. Courier companies are typically the top choice of online merchants for their shipping requirements. Speed, trackability, and flexibility are just three of the main reasons the eCommerce industry prefers courier companies over traditional postal services. 
Types
Postal Services
USPS groups mail into six services called "classes." Categorization is based on the features, postage prices, service levels, and presort requirements of the mail's class. 
Priority Mail Express
For shipping of anything mailable, letters, and merchandise
Priority Mail


For shipping of anything mailable, merchandise, personal correspondence, and important documents such as bills and invoices
First-Class Mail
For shipping of anything mailable, merchandise,  personal correspondence such as cards and letters, and important documents such as bills and invoices
Periodicals


For shipping of newsletters, magazines, and other periodical publications to a set list of subscribers at regular intervals
USPS Marketing Mail


For shipping of marketing materials such as flyers, circulars, brochures, newsletters, bulletins, catalogs, and small parcels
Package Services and USPS Retail Ground


For shipping of bound printed matter, media mail, library mail, single-piece mailings, gifts, and merchandise
| | | | | | | |
| --- | --- | --- | --- | --- | --- | --- |
| Class of Mail | Priority Mail Express | Priority Mail | First-Class Mail | USPS Marketing Mail | Periodicals | Package Services/ USPS Retail Ground |
| Fast | ✓ | ✓ | ✓ | ✗ | ✓ | ✗ |
| Affordable | ✓ | ✓( for some options) | ✓ | ✓ (for in-country only) | ✓ | ✓ |
| Free Forward and Return Services | ✓ | ✓ | ✓ | ✓ | ✓ (for 60 days) | ✓ |
| Extra Services  | ✓ | ✓ | ✓ | ✓ (for parcels only) | ✗ | ✓ |
*Extra Services include, but are not limited to Insurance, Certified Mail, Cash on Delivery, Registered Mail, Adult Signature, USPS Tracking, and Signature Confirmation
Courier Services
Courier shipping is best for eCommerce because it offers more options for delivery destination and transit times. 
Local Shipping
Courier services that focus on domestic shipping. Since this is in-country, merchants and consumers alike can enjoy fast deliveries in same-day shipping or overnight shipping.
Cross-Border Shipping
Courier services that target those who require overseas shipments. Cross-border shipping is ideal for retailers whose eCommerce shops are open even to international consumers.

This type of shipping can be more expensive, mainly because of the distance between the shipment's point of origin and destination and other additional taxes such as customs or import duties. Transit speed can be as early as the next day or can be as long as a month, depending on distance and availability.
Time-Specific Shipping
Courier services that aim to deliver both local and international shipments within a specific time frame. Common types are 3-hour shipping, same-day shipping, overnight shipping, and two-day shipping, which has become the standard because of Amazon.
Pricing and Additional Fees
Postal Services are known to be much more affordable in comparison to postal services. Cost is one key difference between mail and courier shipping, mainly because merchants are paying for speed. However, if delivery time is not a priority, then going with the former option would save the sender more money than the latter.
It is important to note that postal services now offer expedited shipping at an additional cost. In this context, courier services might be the best choice since it is more reliable and transparent as well.
Shipping costs for courier services also tend to be more expensive since it considers parcel handling fees and other surcharges such as fuel and remote area deliveries.
Service Quality
One other difference between mail and courier shipping is the quality of service. With both shipping options, you get what you pay for. As mentioned, mail services tend to be cheaper due to longer delivery times, outdated tracking tech, and unreliable customer service. Courier services are often more expensive, but individuals and businesses can count on their speed, reliability, better tracking software, more flexibility, and prompt customer service. 
Delivery Times
Besides price, speed is the main difference between mail and courier services. Postal services are much slower, which is why it is not the ideal option for those looking to send or receive shipments within a specified time frame. International shipping can also be more challenging when coursed through mail services.
Courier services often boast shorter transit times and offer more time-sensitive delivery options even for cross-border shipping. 
Tracking
Advancements in technology continue to change customer expectations. Consumers have now grown accustomed to knowing exactly where their shipments are. Trackability is one difference between mail and courier shipping that makes the latter the preferred delivery method for eCommerce.
While postal services can also enable mail tracking (usually at an additional cost), courier companies are leaps and bounds ahead in transparency. Today, it is customary to find courier service providers with web-based tracking software and a mobile app. If reliable trackability is something both the sender and receiver value in shipping, then courier companies are the way to go. 
Customer Service
Customer service is also another difference between mail and courier shipping. With postal services, customer support can take hours or days before getting back to inquiries and concerns since they still use more traditional methods like phone and email. 
Courier companies, however, have much faster response times. They are more inclined to take full advantage of technology by using automated or AI-powered bots to answer frequently asked questions, 24-hour chat portals, and mobile applications that can attend to basic or common customer concerns. 
Bottomline
While there is a difference between mail and courier shipping services, online merchants' decisions will always depend on their requirements. Budget constraints can gear you towards postal services, but the need for speed will leave you with courier companies as the ideal solution. 
That's why it's important for online sellers to identify exactly what their expectations are. If you want to learn more about the difference between mail and courier shipping from industry experts, feel free to contact ZhenHub with your questions or to get a free quote.
Share Article