7 Last-Mile Delivery Challenges and How to Overcome Them
Time to read:
4
minutes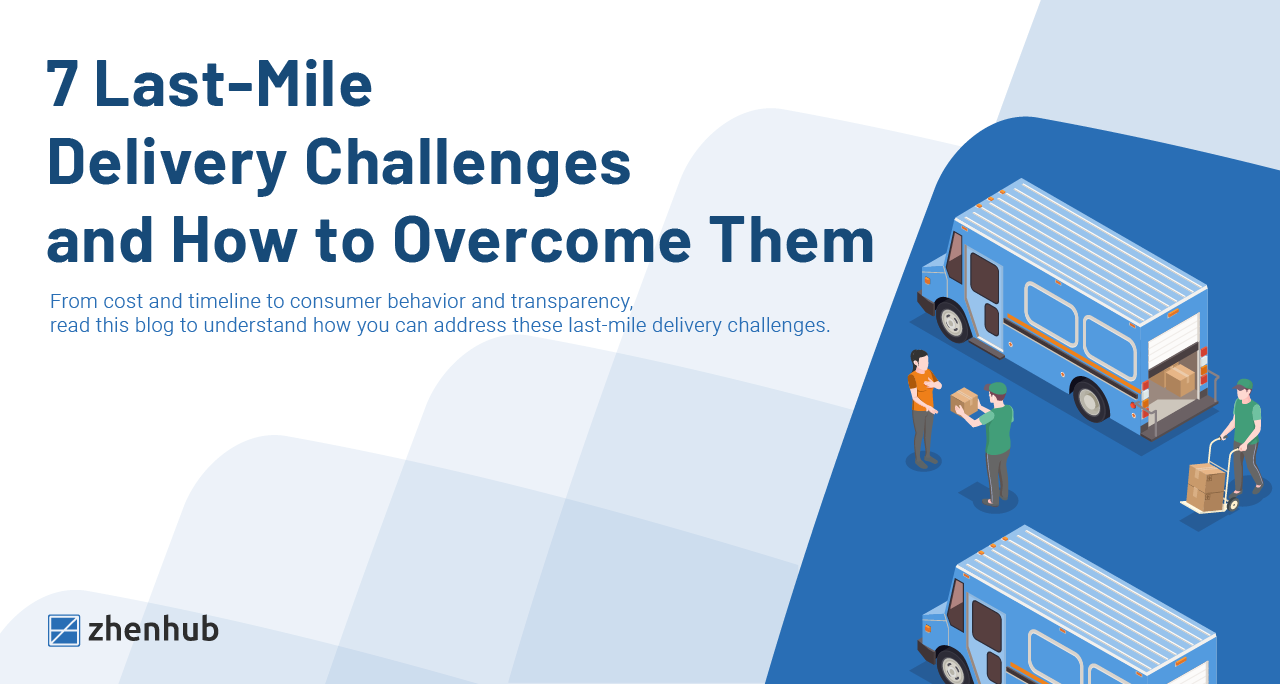 eCommerce has eased the retail process, but it has also intensified the demands of consumers who want quick and free shipping. Today, consumers choose brands that meet their expectations. The key to keeping up with the competition and satisfying customers lies in improving the last-mile delivery process. This final step in the order fulfillment process aims to get a parcel to the customer as quickly as possible. Last-mile delivery challenges can significantly affect customer satisfaction and overall viability and growth.
7 Common Last-Mile Delivery Challenges
As they say, knowing the enemy is half the battle won. Below are a few common last-mile delivery challenges most retailers face and possible solutions to minimize the effects of these issues.
Customers expect shipping to be free and fast. But this last leg of the order fulfillment is 53% of the shipping costs, which substantially impacts the viability of an online eCommerce operation. The solution to the high costs of last-mile delivery is neither simple nor easy. It takes high levels of efficiency and better planning to keep costs low. Strategies such as local warehousing solutions are effective in minimizing shipping expenses. However, effecting these strategies does require an investment.
eCommerce is the present and future of retail. This year, over 2.14 billion people worldwide will buy goods and services online. While this development is undoubtedly welcome, retailers are still using outdated technologies. Failing to upgrade delivery handling renders companies unable to handle shipping and fulfill orders effectively. Supply chain optimization through logistics management or shipping software can change the way companies conduct their order fulfillment and improve it tremendously.
Route efficiency is crucial to last-mile delivery. Optimizing routes and schedules can be a challenge to many retailers because most issues are beyond their control. Between road works, unexpected traffic jams, and the possibility of accidents, failing to conduct proper route optimization can directly impact the estimated package arrival time. This, in turn, can affect customer satisfaction and loyalty.
Route efficiency is complicated as there are plenty of factors to consider. Thankfully, with solid logistics management, route optimization software can help retailers manage their fleet and implement effective shipping strategies.
Lack of Transparency and Visibility
Today's consumers want their packages sent to their doorstep quickly, but they also want to know where their orders are — at every step. Most third-party logistics providers offer tracking codes as a way for buyers to monitor their parcels.
For some customers, tracking codes aren't enough. Real-time tracking allows them to monitor the delivery personnel's route and movement and prepare for their arrival. It is no longer enough to give a delivery date, but buyers prefer to know when their parcel would reach their homes.
Addressing Density and Capacity
Existing delivery processes can no longer accommodate the growing demand for same-day delivery. After all, there are limitations to how many packages a human workforce can deliver in a workday. A balance between distance, and density, is vital to ensure parcels get received promptly. Most of the time, when it comes to last-mile delivery, four scenarios play out:
Low-Density Short Distances
Low-Density Long Distances
High-Density Short Distances
High-Density Long Distances
Aside from density and distance, the package's size or dimensional weight and transportation difficulty also play a hand in the ease of the last-mile delivery process.
Unpredictability of Deliveries
One of the biggest frustrations of most retailers with last-mile delivery is the unpredictability involved in the process. Sometimes they are simply beyond the control of the eCommerce operation. It may include problems with dispatching, issues with delivery vehicles, mistakes in routing, and customer availability.
Unforeseen circumstances happen. However, streamlining communication is key to minimizing any issues that may arise during last-mile delivery. This brings us to the next point.
Strained Customer Communications
Open communication lines between a retailer and a buyer are crucial to the success of last-mile delivery. Customer concerns, questions, and issues create friction that hampers the delivery process. Providing an automated means for consumers to get the answers is essential in preventing delivery delays. The more information a customer receives, the more likely they are to enjoy their purchase experience.
Best Practices to Avoid Last-Mile Delivery Challenges
Amidst the last-mile delivery challenges retailers face, there are best practices that can vastly improve the process.
Optimizing every part of the supply chain is necessary to tackle issues with last-mile delivery. Delays in the manufacturing or inventory procuring process can increase friction and interruptions further down the supply chain. Using logistic management software that syncs with the eCommerce platform allows retailers to have visibility on their current inventory. It can and will prevent issues with order fulfillment.
Managing Growth and Scaling
Most retailers believe that the ability to scale is always a good thing. Nevertheless, expanding the company without shifting order fulfillment to accommodate new business surge can negatively impact brand image and perception. In all stages of growth, it is essential to put customers' needs and demands at the center of the operation.
Knowing the common last-mile delivery challenges that need to be addressed is the first step in effectively solving issues. The retail landscape is rapidly shifting. Keeping up is key to your company's success. ZhenHub can revolutionize the way you do logistics. Our tech-based logistics solutions can address these common last-mile delivery challenges to make eCommerce shipping a much more streamlined process for you.
Are you interested in leveling up your company's order fulfillment process? Request a quote now or reach out to us today to learn more about what we have to offer.
Share Article