How Shopify Shipping Works
Time to read:
4
minutes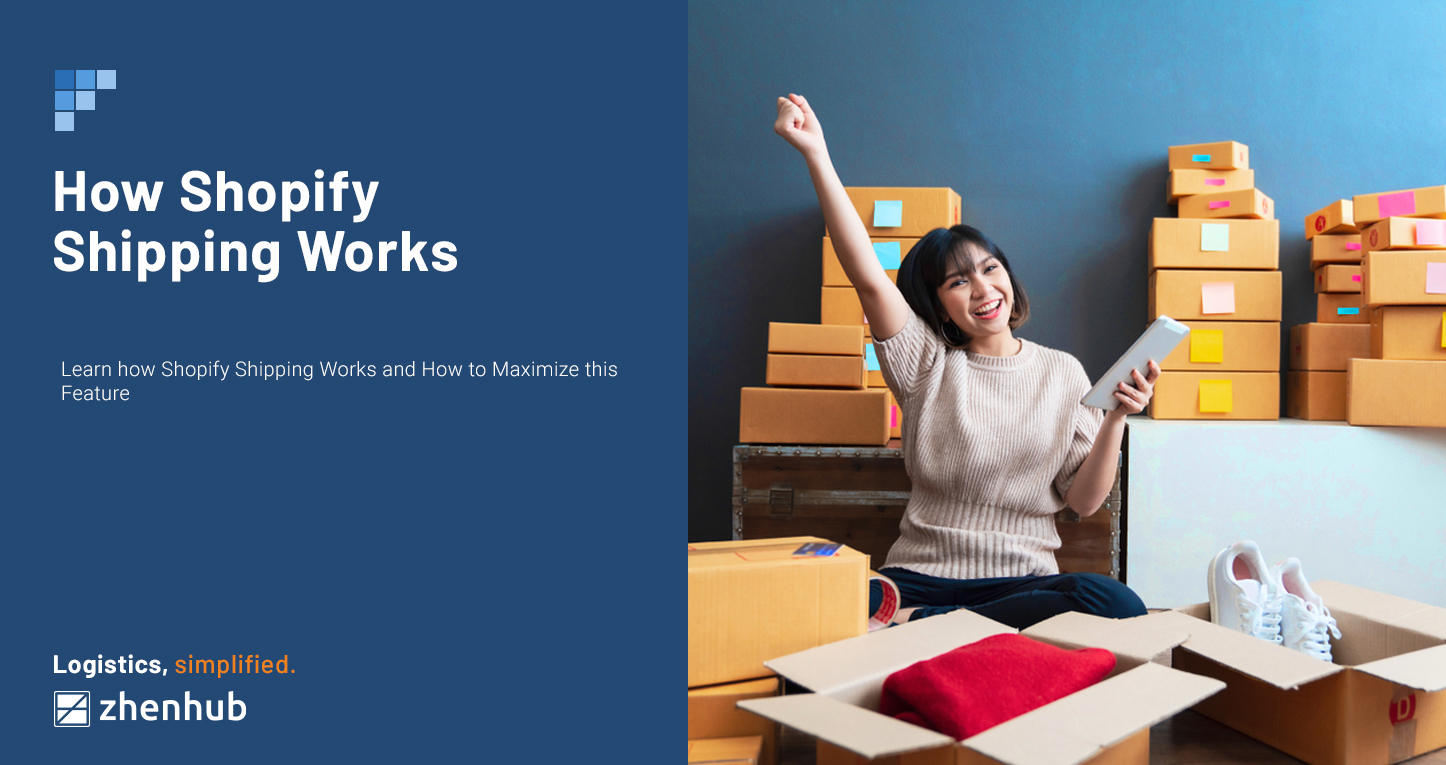 Shipping and logistics may be tedious, but it is crucial to running an eCommerce business. Online retailers must find a logistics process that strikes a balance between affordable shipping rates and reliable delivery times. As an operation grows, shipping becomes even more expensive and time-consuming.
Thankfully, sellers that use the Shopify platform can take advantage of Shopify Shipping. It's a Shopify feature designed to make fulfillment less laborious. With this platform seller component, sellers have more time to focus on their core competencies.
This article covers how Shopify shipping works, including its key features, cost, and basic setup.
What is Shopify Shipping?
Shopify Shipping is a Shopify exclusive feature that allows sellers access to a logistics suite. This suite can calculate shipping fees and enable customers to choose their preferred delivery rates, print shipping labels, and send out parcels.
All Shopify plans come with Shopify Shipping for free. However, the features on each tier may vary. Basic and standard plans do not get third-party calculated rates. Likewise, shipping discounts increase as a seller moves to more expensive programs. These discounts can be anywhere from 20% to 88%.
It is important to note that, while Shopify Shipping is free, it is only available for orders shipped from the US, Canada, and Australia – at least at the time of writing.
What are the Key Features of Shopify Shipping?
The beauty of Shopify Shipping lies in the fact that it is a one-stop shipping platform. It provides everything a seller needs to send out their packages with ease. These features include:
Retailers can opt to ship their orders through Shopify Shipping via different carriers. Shopify Shipping users can utilize several international carriers, including Canada Post, DHL, USPS, and UPS. It is important to note that FedEx has yet to participate in Shopify's carrier integrations.
Shopify Shipping supports label printing and allows retailers to purchase and print 20 labels at a time. The platform is compatible with a regular desktop printer or supported label printers.
Shipping insurance through Shipsurance is available for orders shipped from the United States. Retailers can buy insurance for up to $5000 through the platform.
Flat Rate Shipping Fee Option
Sellers who use Shopify Shipping can set free or flat shipping for orders through their shops.
International Shipping Support
As mentioned earlier, Shopify Shipping is only available for orders made from the US, Canada, and Australia. However, it also allows printing of international shipping in-suite.
How to Setup Shopify Shipping?
The process of setting up Shopify Shipping is relatively straightforward and doesn't take much to activate this feature. The only requirement is for a seller to have an active Shopify account.
List the Shipping Address
Shopify requires sellers to add a valid address upon signing up. This address might be different from a seller's primary business address.
Identify Preferred Carriers
After inputting the correct shipping location, the next step involves choosing preferred carriers. Not all are available, though. Shopify Shipping carriers include USPS, UPS, DHL, or Canada Post.
Input Product Weights
Real-time shipping rates are calculated based on the weight of a specific product. While tedious, sellers have to make this critical step to maximize Shopify Shipping. Weights can be in pounds, kilograms, ounces, or grams.
Prepare and Link the Printer
As mentioned earlier, Shopify Shipping allows sellers to print labels directly from the platform. At the time of writing, the suite only supports the following printers:
Dymo LabelWriter 4XL
Rollo label printer
Brother QL-111ONWB label printer
Standard desktop printer
There is no need to plug anything into Shopify physically. Sellers only need to make sure that their printer connects to their computers.
Set Up Shipping Zones
The last step involves identifying shipping zones. This step is crucial in ensuring that customers are charged the right shipping amount for their purchases. Carrier options are limited to the carriers available in a country. If a seller has a presence in multiple countries, they have to create a shipping profile for each location.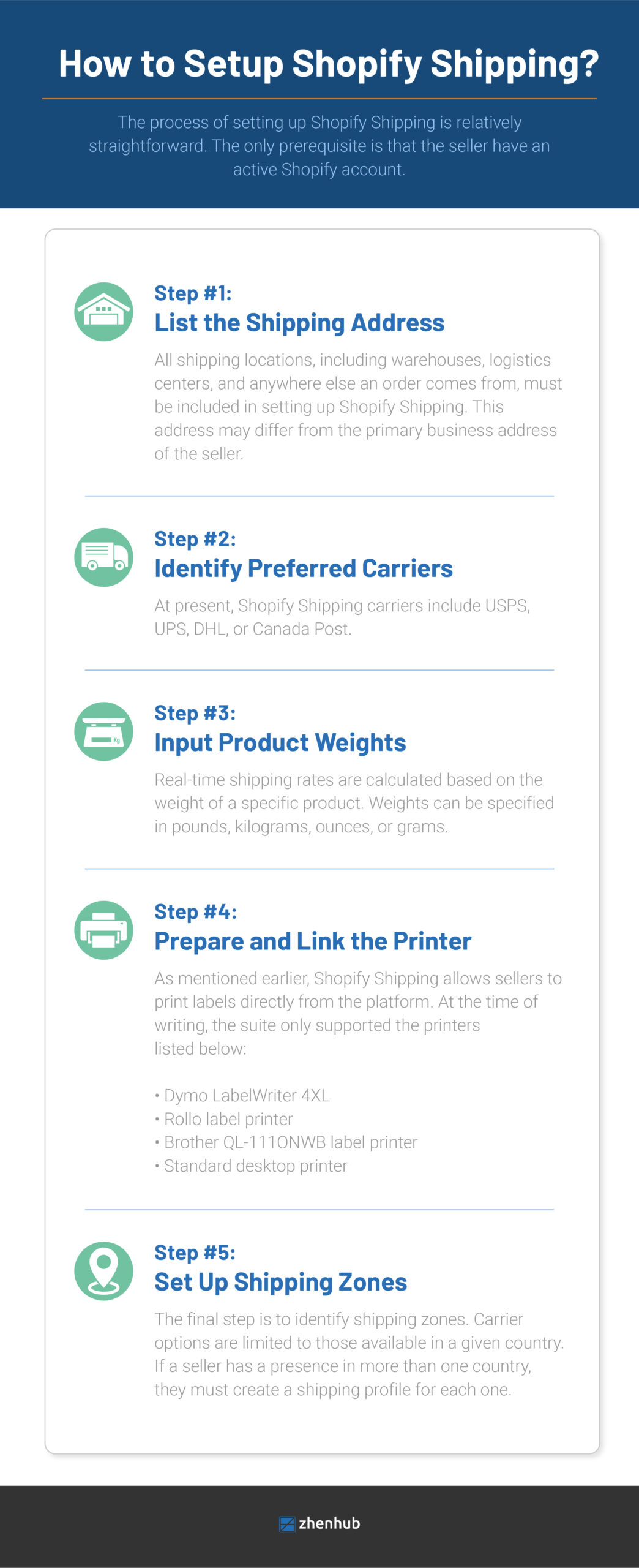 Advantages & Disadvantages of Using Shopify Shipping
There are advantages & disadvantages to using Shopify Shipping. While it is designed with a seller's ease in mind, it might not be the right fit for all retailers.
One of the best things about Shopify Shipping is that it's free. For sellers who are already using the Shopify platform, integrating Shopify Shipping into their logistics process should ease a lot of their burden. It is also convenient to accomplish all logistics-related tasks in a singular platform. A streamlined, centralized process through Shopify Shipping can reduce errors, mistakes, and miscommunication. It also doesn't hurt that this free service offers guaranteed discounts from several carriers.
Nevertheless, Shopify Shipping does come with its share of challenges. Probably the most glaring is that it is only available to Shopify users. Retailers that choose an omnichannel approach wouldn't be able to use Shopify Shipping for all the platforms they sell on. Likewise, the 20 label limit is too constricting for eCommerce operators that sell on a bigger scale. At the time of writing, the service is also only available to orders from a limited number of areas.
As emphasized time and time again, shipping plays a crucial role in customer satisfaction and loyalty. Buyers are more likely to make a repeat purchase if they had a good first interaction with a seller's shipping and logistics process.
Shopify Shipping is only one of the many tools you can use to take your business to the next level. ZhenHub can help you maximize Shopify Shipping and completely take advantage of it. We offer a wide array of logistics solutions that fit every need. Request a free quote now or sign up to see how our multichannel fulfillment services can help take your eCommerce business to the next level.
Share Article