Logistics in Indonesia: Opportunities and Challenges
Time to read:
6
minutes

One of the largest eCommerce markets in the world today can be found in Indonesia, boasting 43 billion dollars in eCommerce revenue. Over 30 million consumers in this Southeast Asian presidential republic made online purchases through various eCommerce platforms in 2021.
Indonesia's digital economy is an excellent opportunity for online shopping. With almost 20,000 islands, Indonesian eCommerce distribution necessitates specialized methods integrating marine and land transportation infrastructures. Businesses that provide consumer products and services have much to gain from investing in the nation.
Indonesia is a promising eCommerce industry in Asia-Pacific, with several regional and international businesses vying for market share. eCommerce growth has been fueled by increased internet usage, rising digitization, and the proliferation of websites.
Future eCommerce growth in Indonesia is predicted to be in the high double digits. The 260 million+ Indonesian population will drive eCommerce growth, drawing millions of new online buyers every year. However, their online marketplaces are less developed than eCommerce in Thailand or Singapore. With a nearly 75.47% internet penetration rate in 2022, Indonesia has one of the highest rates in Asia.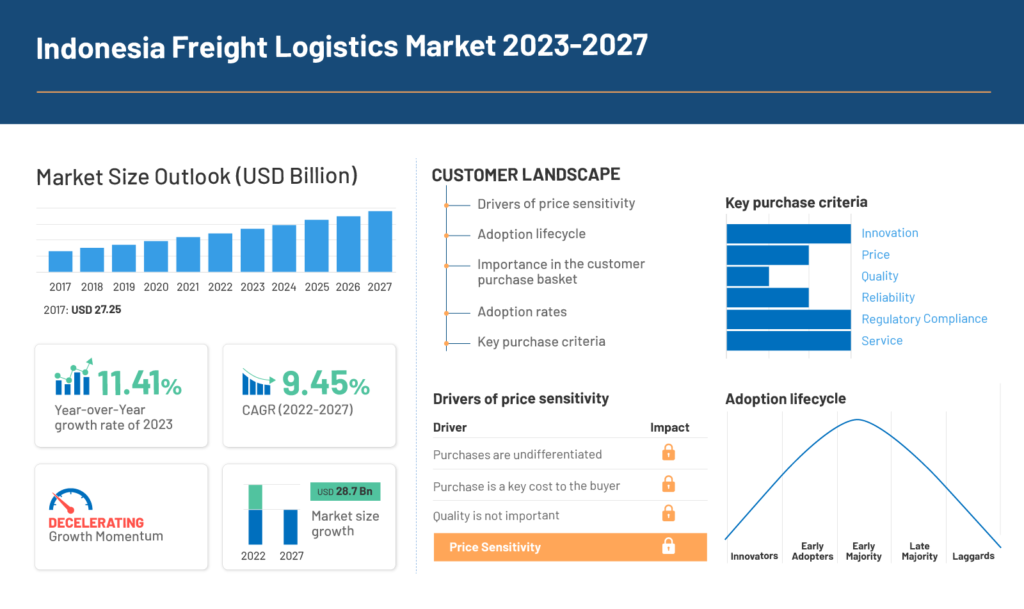 Data Source: https://finance.yahoo.com/
Indonesia's logistics sector has been booming in the past few years but is also marked by extreme inefficiency. This is evidenced by the high cost-to-GDP ratio of more than 23% since 2015. Intending to be the fifth to seventh-largest economy in the world by 2045, Indonesia has begun to emphasize improving the efficiency of the logistics and supply chain sector. The nation has already taken steps to reduce logistics and supply chain expenses to 17% by 2024. One of their major initiatives was creating a national logistics platform and a marine toll program.
Current Challenges of Logistics in Indonesia
Indonesia improved its Logistics Performance Index rating in less than ten years by strengthening its logistics and supply chain infrastructure, particularly roads and highways. These developments have allowed it to move up 29 ranks from 75th in 2010 to 46th in 2018. However, Indonesia's performance still needs to catch up to other nations due to subpar logistics and supply chain services and many underlying problems. Thus, Indonesia must develop a mature logistics and supply chain industry with effective and affordable services.
The Indonesian government has actively worked on improving this, and they have made noteworthy improvements. President Joko Widodo has launched a big infrastructure campaign since taking office in 2014, investing as much as $450 billion in urgent infrastructure improvements. In addition to other infrastructure improvements, this has led to the construction of over 3,382 km of new highways, 782 km of new toll roads, 19 km of new seaports, and 10 km of new airports.
This improvement, nevertheless, has slowed. According to the most current World Bank evaluation of logistics in Indonesia, highlighted by the Ease of Doing Business Index, the country showed minor gains, rising to a score of 69.6 in 2020 from 68.2 in 2019.
The logistics industry in Indonesia is fragmented despite having one of the largest eCommerce markets in the world. The logistics industry must embrace digitalization if it hopes to maintain its expansion. Indonesia is an archipelago with thousands of islands. Projections are optimistic as the Indonesian freight and logistics market is projected to grow at a Compound Annual Growth Rate (CAGR) of 10.27%.
An Expensive and Inefficient Supply Chain
There are many different obstacles that logistics service providers must overcome, particularly in the area of last-mile delivery. Due to strict timetables, conventional shipments, for example, take longer to arrive. On-demand services may deliver more quickly but at a higher cost and over shorter distances.
Indonesia's logistics cost-to-GDP ratio is three times higher than in five benchmark countries (Germany, Japan, Singapore, South Korea, and China). This is the result of underutilized transportation capacity and lengthy domestic delivery times. Additionally, Indonesia needs clear information about the state of the market to plan supply and demand to maximize utilization effectively.
Shipping is also notably more expensive in Indonesia compared to its neighboring countries in Southeast Asia. An outbound load can be three times more costly than an inbound load, which illustrates inefficient capacity usage. Additionally, logistical difficulties result in subpar operations and two to three times longer domestic delivery times than in competitor countries.
The country's inadequate ports, trains, and roadways present a significant problem for the logistics sector as it takes a long time to deliver commodities. Only Java and Sumatra have access to commercial train operations. Inter-island connectivity faces significant challenges due to the unreliability of domestic shipping caused by underperforming ports. There are also considerable ship backhaul issues, intricate supply chains, and delivery delays.
Lack of Support
Logistics in Indonesia and its supply chain ecosystem perform below expectations due to an extremely fragmented industry and insufficient technological adoption. Suppliers need more capabilities in technology and funding to deliver high-quality goods and services. Inland modal and warehouse managers are widely dispersed and need access to digital technology. Local trucking companies lack the technology and skills to automate their processes. They also do manual recording of delivery logs.
Customs procedures in Indonesia take nearly a day longer compared to China, Singapore, and Malaysia. Many logistics providers operate in a subpar environment without the assistance of effective administrative processes for exports or imports. Due to physical and technological infrastructure issues, Indonesia's logistics and supply chain ecosystem isn't as efficient as other countries.
The nation's progress toward a better national logistics and supply chain is being delayed by these underlying problems, causing a vicious loop. Digital solutions are being used by nations worldwide to rebuild their supply chains and logistics industries. In this industry, digitalization has the potential to significantly enhance operations and provide the ecosystem with the necessary capabilities.
The Future of Logistics in Indonesia
The country is home to many Southeast Asian eCommerce juggernauts, including Tokopedia, Lazada, Shopee Indonesia, and BukaLapak. As the market expands, so will the volume of goods stored in warehouses. The country's internet penetration rate is rising at the same time. Many foreign investors are investing in the eCommerce logistics industry due to the prospects in the Indonesian eCommerce market. Investors know money is to be made and are already making moves to reap the benefits.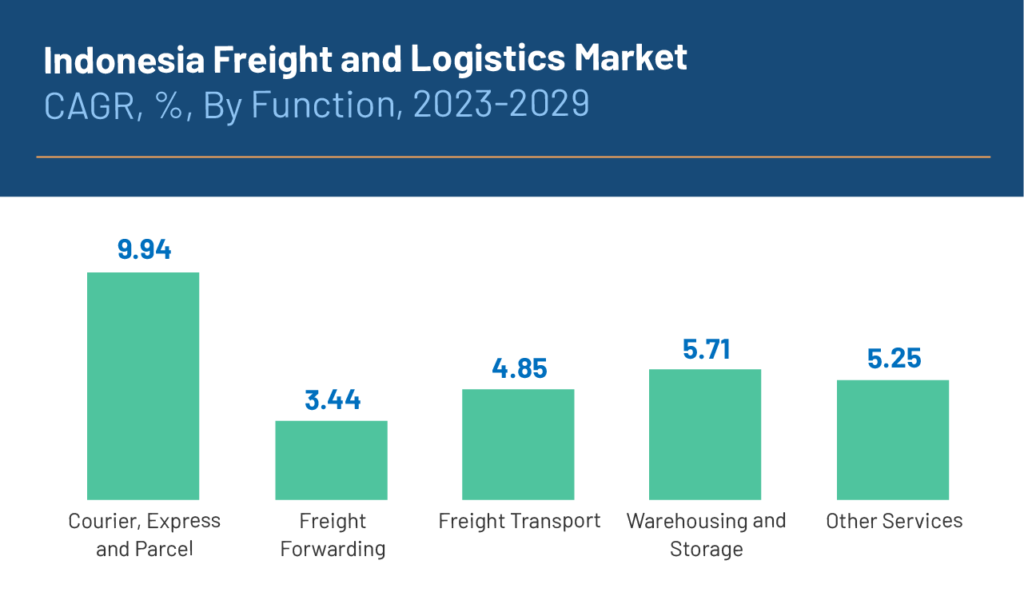 Data Source: https://www.mordorintelligence.com/
All logistics players must adopt advanced technologies if Indonesia's logistics industry is to be digitized. Although many participants in Indonesia's logistics ecosystem have begun to use technology, it still needs to be improved. For instance, the quality of port operations is still largely dependent on manual labor. Last-mile services such as storage and in-land distribution still use outdated infrastructure. Looking at the success tales of benchmark nations, Indonesia will need to speed up the adoption of cutting-edge technologies. Service providers can study and compare the digital logistics solutions being used in Singapore, Vietnam, and Thailand. The government is already working with local start-ups that offer training and software to logistics providers. Better tools lead to higher-quality services, reduced national logistics costs, and more market competitiveness.
The essential building block for powering e-logistics is a national logistics platform. Opening the digital infrastructure will improve logistics and supply chain services and offer greater nationwide access with an integrated platform. The National Logistics Ecosystem (NLE) is an integrated platform that connects and streamlines Indonesia's end-to-end logistics process. It was first introduced as the nation's logistics platform in 2020. The adoption rate is still quite low, with less than 30 organizations now working together. The NLE platform is still not connected to other service platforms but presents a strong foundation for digitized logistics.
Indonesia's Industrial Revolution (IR)4.0 national road map wants to implement a modern logistics and supply chain across the country by building a "smart logistics" plan. But implementation has slowed because the government has mostly focused on projects involving physical infrastructure. The project is one of the most critical upgrades for Indonesia's logistics and supply chain sector. It will serve as a crucial foundation for the digital industry to enable the growth of logistics companies that will provide significant benefits and value. Logistics providers will be able to improve their services by adopting digital solutions. More advanced logistics and supply chain technologies are easier to adopt with a minimum standard for technology across the nation.
With the country's favorable demographics and the enormous growth of the retail and eCommerce sectors, logistics in Indonesia are expected to continue to grow rapidly.
When the local government's efforts to strengthen the nation's logistics infrastructure are complete, it may significantly help the industry and the nation's economy expand even more.
ZhenHub is your gateway to the Indonesian eCommerce market. Overcome logistics challenges with our eCommerce solutions, such as trackable shipping services and inventory management. Sign up at our website and get instant access to our online dashboard.
Share Article