Success Story: Agilas Rise Ltd. Successfully Shipping from China to the USA
Time to read:
4
minutes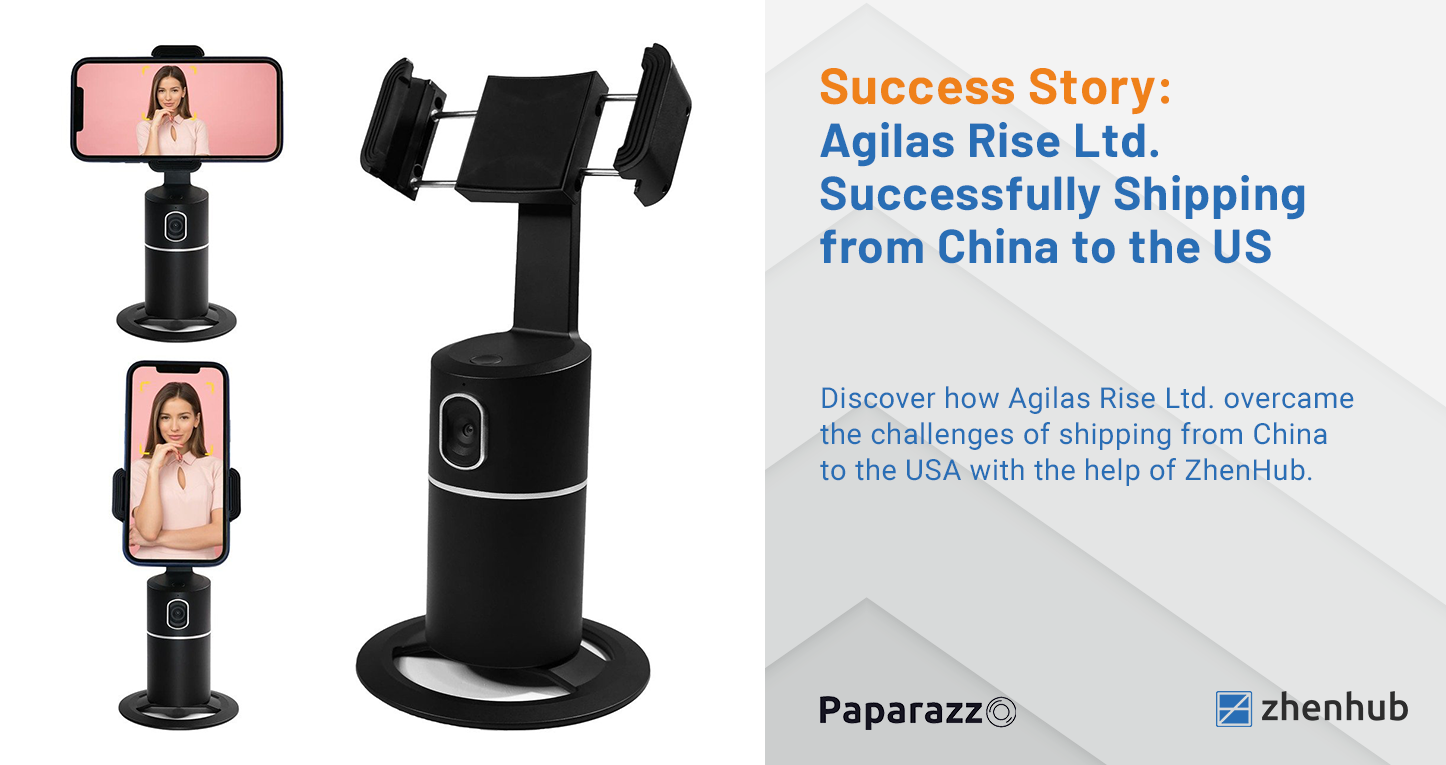 Shipping from China to the USA
If you have secured your place in the competitive eCommerce industry, the next natural step is to take your local company global. Offering products to a worldwide market is a strategic business move and an indicator of success. That said, competing with leading eCommerce companies can be difficult. Between sourcing products at a competitive price and figuring out shipping from China to the USA, there are challenges that retailers face before making the big leap. 
As you grow your business and expand your reach, it's imperative to have shipping solutions that are reliable and quick enough to compete with eCommerce giants like Amazon. 
One such company made shipping from China to the USA relatively easy: Agilas Rise Ltd.
Agilas is a tech start-up based in the United Kingdom. It surmounted the challenges and eventually made its products available to international customers. Read on to find out more.
Competing with eCommerce Giants: Agilas Rise Ltd.
Established by Matt Leonard in August 2020, Agilas Rise Ltd. aims to provide tech solutions for the average person at an affordable price.
Lockdowns were in full swing across the globe at the time. Most industries had to adapt to the new normal through remote and hybrid work schemes. The founders uncovered a gap in available tech options in the market that suits the needs of the quickly-changing work environments. Their main goal is to provide a means for people to film, stream, and unleash their creativity in the comforts of their homes.

At present, Agilas Rise Ltd. offers Paparazzo – an AI-Powered 360 Auto Tracking Phone Holder that allows users to create content without the need for an app or a Bluetooth connection. The device is essentially an intuitive cameraman that captures every angle and offers 360° AI Facial Tracking. 
"We started last August. Our target market is anyone who wants to create content at home, or just spend more time with a loved one in a digital world by supplying tech products that make this easier and more fun. Our current product is called Paparazzo. An auto-tracking camera that will follow you wherever you go and keep you in the frame. It is very easy to use as no app is required. Perfect for video calls and content creators!" 

Matthew Leonard, Agilas Rise Ltd.
The Problem
There was no denying that the market was ready for Paparazzo. As more content creators and professionals worked from home, the need for a device that allows users to video chat, stream, and film intuitively grew. There was a gap in the available products, and Paparazzo fills the need seamlessly. The challenge for Agilas Rise Ltd. was finding a way to make inventory shipping from China to the USA just as fast as larger eCommerce operations such as Amazon.
At first, the company tried to ship inventory internationally on its own. However, tackling the problem proved to be more difficult than expected. Shipping from China to the USA took longer than expected. If they genuinely want to compete globally, partnering with and outsourcing to a third-party logistics company is necessary. 
"Shipping times were the key metric for us to be competitive with Amazon. To be able to sell in the US, you need to be able to compete on shipping times. This was the main factor as we knew without this we would not be successful in selling our products."

Matthew Leonard, Agilas Rise, Ltd.
The ZhenHub Solution
The Agilas Rise Ltd. team knew that they must come out of the gate strong with a product like Paparazzo. Partnering with a tech-based logistics company would give them the right platform to introduce a viable product that the market needs.
Through a quick Google search, Matt and the rest of the Agilas team came across ZhenHub. With ZhenHub's warehousing services, the team knew that fast shipping from China to the USA is now possible. The start-up's transition to ZhenHub's tech-based logistics solutions has been smooth. At present, Agilas Rise Ltd. offers free shipping of its flagship product across 100 countries. 
"We loved the training and the hand-holding through the process. It made us feel very comfortable and felt like we were doing business with the right people since this was the first time engaging with a third party for our shipping requirements. Also, ZhenHub's app for Shopify made the set-up very easy to automate the process and integrated very easily. Their support after the process was also very good and prompt with their responses when we had any questions or issues."
Global Scaling Made Possible Through Strategic Partnerships
Establishing a foothold in the global eCommerce industry is a challenge even for businesses with products that fill a void in the market. Beyond marketing strategies, determining logistics solutions is at the heart of a successful expansion. Logistics plays a significant role in developing a client base and establishing credibility, but there are other factors to consider.
For one, it is essential to consider and identify the new target audience. Expanding to new countries requires retailers to reconsider their target market based on the local language, culture, and demand. Unfortunately, most eCommerce companies fail to tailor-fit their products, services, and website to the new market.
Likewise, there is such a thing as taking on more than what the company can do during expansion. By choosing to partner with a logistics company, a retailer can focus on the business and less on figuring out the supply chain. It enables eCommerce shops to increase profits and compete in established marketplaces. Retailers won't need to deal with the stress of logistics and inventory management. Instead, they can concentrate on strategic expansion and growth. This has been proven true by Agilas Rise Ltd. 
Like Agilas Rise Ltd., ZhenHub can help your operations remain competitive on a global scale. Extend your reach, get more customers, and experience the ZhenHub difference. Visit our website, request a quote, or simply contact us today to learn more about how we can get your products from A to B, effortlessly. 
Share Article