Going Global: 8 International Shipping Documents to Prepare
Time to read:
5
minutes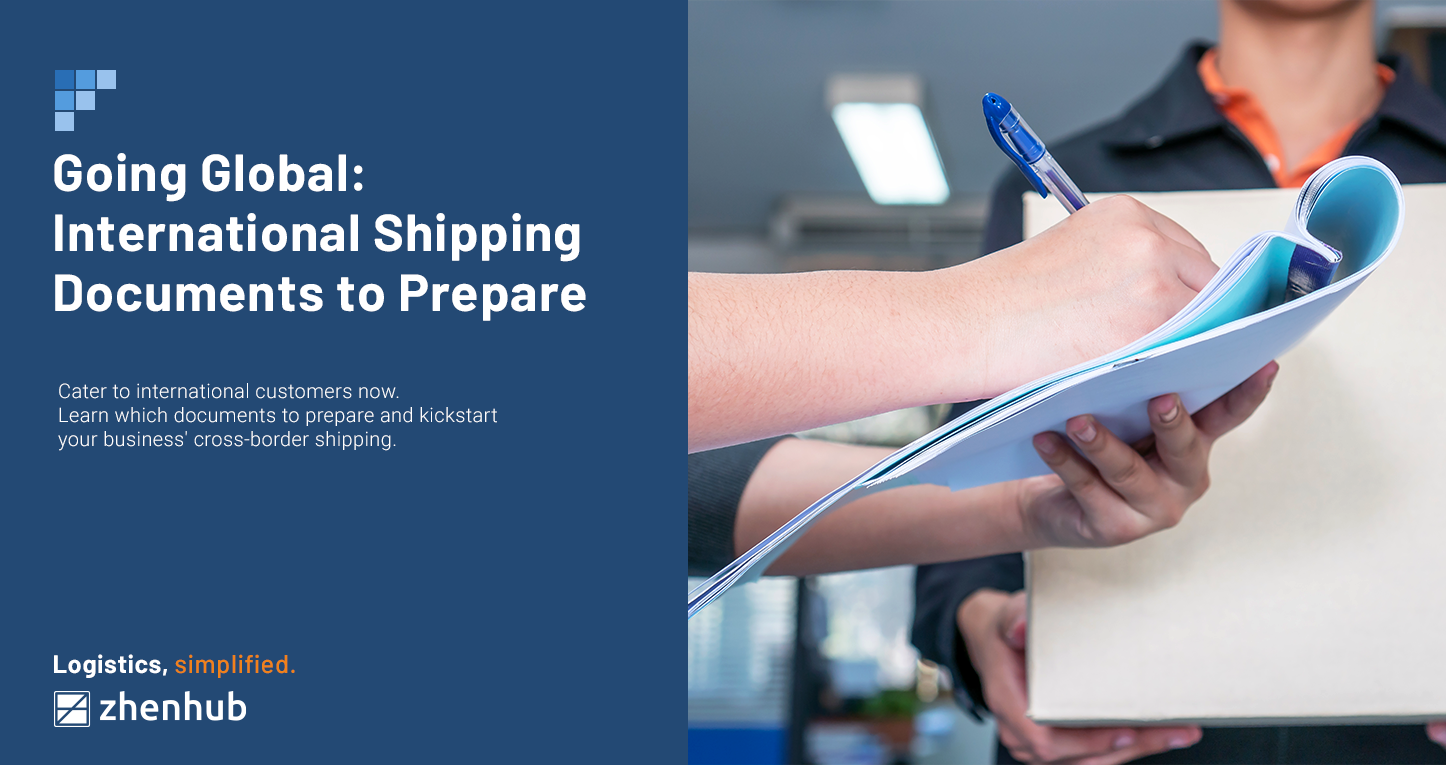 eCommerce made the world of retail more accessible. Today, people worldwide have easy access to products that weren't previously available to them. The eCommerce industry is poised to gain more traction in the next few years as internet penetration improves access in other regions of the world. To satisfy the demand, small and medium online businesses are expanding their operations to cater to international customers. Between local laws and numerous international shipping documents, scaling a company to the global market can get challenging. It takes experience and mindful planning to impress a brand presence in a new location. And it is worth it as successful expansion equates to new profit avenues and increased business growth.
This article explores cross-border shipping – the benefits of global expansion, the best practices in opening up an eCommerce operation to worldwide business, and the specific requirements and international shipping documents needed to accomplish such a feat.
The Benefits of Catering to International Customers
Taking an eCommerce business global is the logical next step for companies that achieved local market success. An international presence can take a brand to the next level. Below are the benefits of taking the risk of global expansion:
Increased Revenue Potential
An international presence allows an eCommerce operation access to a larger customer base. It's also a way out for businesses that operate in saturated domestic markets. It is important to note that introducing a product into a new region doesn't necessarily translate to immediate profits. It is through strategic marketing and an effective logistics process that a retailer can achieve improvement in revenue.

Exposure to Possible Funding
For more extensive operations, foreign investments are crucial to expansion and scaling. We know that many global economies took a beating in 2020, and there were large capital outflows in March and April. But net capital inflows were bound to return mainly to large Southeast Asia economies. As more companies backed economies, more eCommerce businesses improved product lines and expanded the scope of services. A global presence provides retailers the opportunity to get to know foreign funding available in different locations.

Regional Centers for Better Customer Service
International order fulfillment can get complex and tedious, especially for eCommerce companies operating in a different location than their service area. It can potentially derail an expansion's success. Establishing a regional center in an international site allows businesses to lower operational costs, provide better customer service, and reach a wider global audience.
Guide to International Shipping
Catering to more locations does come at a price. It can be difficult for a brand to gain recognition in a foreign market. There are, however, practical steps that can help a company to establish a foothold in a new marketplace:
Determining target areas is the first step in offering products and services to international customers. Most US-based companies grow their markets by expanding to nearby Canada and Mexico. Identifying target areas is vital in facilitating international shipping because it determines the retailer's order fulfillment process and the international shipping documents. Moreover, this step allows retailers to locate the best areas for warehousing. Distributing inventory across target areas creates a better platform for an effective order fulfillment process.
When it comes to cross-border shipping, it is in the best interest of a retailer to start small. Many operational aspects can burden a company. International shipping requires more steps and more documents than domestic order fulfillment. Choosing nearby international locations provides retailers a means to gauge the international shipping process in a relatively low-risk environment. It becomes an excellent idea to expand to farther away areas from the regional center with an established shipping flow.
Since you're starting small, it's good to limit product offerings to international markets. The first few months of the expansion are all about tracking trends and gathering data. It isn't a good idea for retailers to offer their full-line without testing new customers' preferences. What might be popular in one location might be a dud in another. The limited offering allows space to switch around the availability of products to get a feel of the new area and makes inventory management much easier to handle.
In general, the speed of delivery is directly proportional to the cost of shipping. The challenge for retailers is finding the balance between affordable shipping costs and quick turnaround times. Again order fulfillment between two borders requires a different set of international shipping documents and a slew of varying regulations.
Align with an Experienced Logistics Solutions Provider
As you expand to new markets, it is always best to have the support of seasoned professionals. There is a lot at stake when it comes to global expansion. Partnering with or outsourcing to a credible logistics provider can reduce the stress of dealing with order fulfillment and international shipping documents.
International Shipping Documents to Prepare
International shipping is an entirely different playing field than domestic handling and deliveries. In addition to import duties, retailers can also expect a flurry of processes and documents required to get a package across international borders. Every country needs a different set of permits and licenses. Nevertheless, below are a few standard international shipping documents that most regions ask for:
The Purchase Order is the first proof of transaction between a vendor and a buyer. This document details the items purchased, the types of products involved, and the date of transaction.
Otherwise known as a commercial invoice, this document is the official proof of transaction. Aside from the details of the order, the invoice contains the shipping terms. It is one of the most essential international shipping documents because customs require it for freight shipping.
The packing list contains an itemized account of all the products within a shipment. It provides details such as weight, dimensions, handling instructions, and packing type. These are essential to create a bill of landing.
The bill of landing is a document that binds the owner of the goods to the freight company they choose to ship their products. This record details the destination, the specific products within the cargo, and how they should handle them.
Due to the complex nature of international shipping, most vendors require buyers to procure a letter of credit from an accredited bank. If the buyer cannot pay for the shipment, the bank takes care of the remaining balance.
As the name suggests, the certificate of origin declares the country of origin for the shipped goods. It is one of the crucial international shipping documents because the country of origin determines the rate of duty.
An export license is a legal document that the government issues. Some jurisdictions require licensing for exporters to ship specific items in specific quantities. It is important to note that not all countries deem this as one of the mandatory international shipping documents. Nevertheless, it is best to have this prepared.
There is a level of risk associated with international shipping. Most of the time, retailers take out an insurance policy for the goods to be exported. Most policies cover damages and loss.
In eCommerce, an international footprint is invaluable. By offering products and services to a broader market, a retailer can have better customer reach and increased revenue growth. While there are drawbacks to international expansion, it outweighs the benefits. By knowing exactly what international shipping documents to prepare, you are a step closer to bringing your eCommerce business to a global scale.
If you are looking to expand your operations, partnering with the right logistics company can be critical to your success. ZhenHub's tech-based solutions have proven effective for multiple eCommerce businesses across the globe. We can do the same for your company. Email us today to learn more about our services or request a quote to get things started!
Share Article