3 Ways to Get Discount Shipping
Time to read:
4
minutes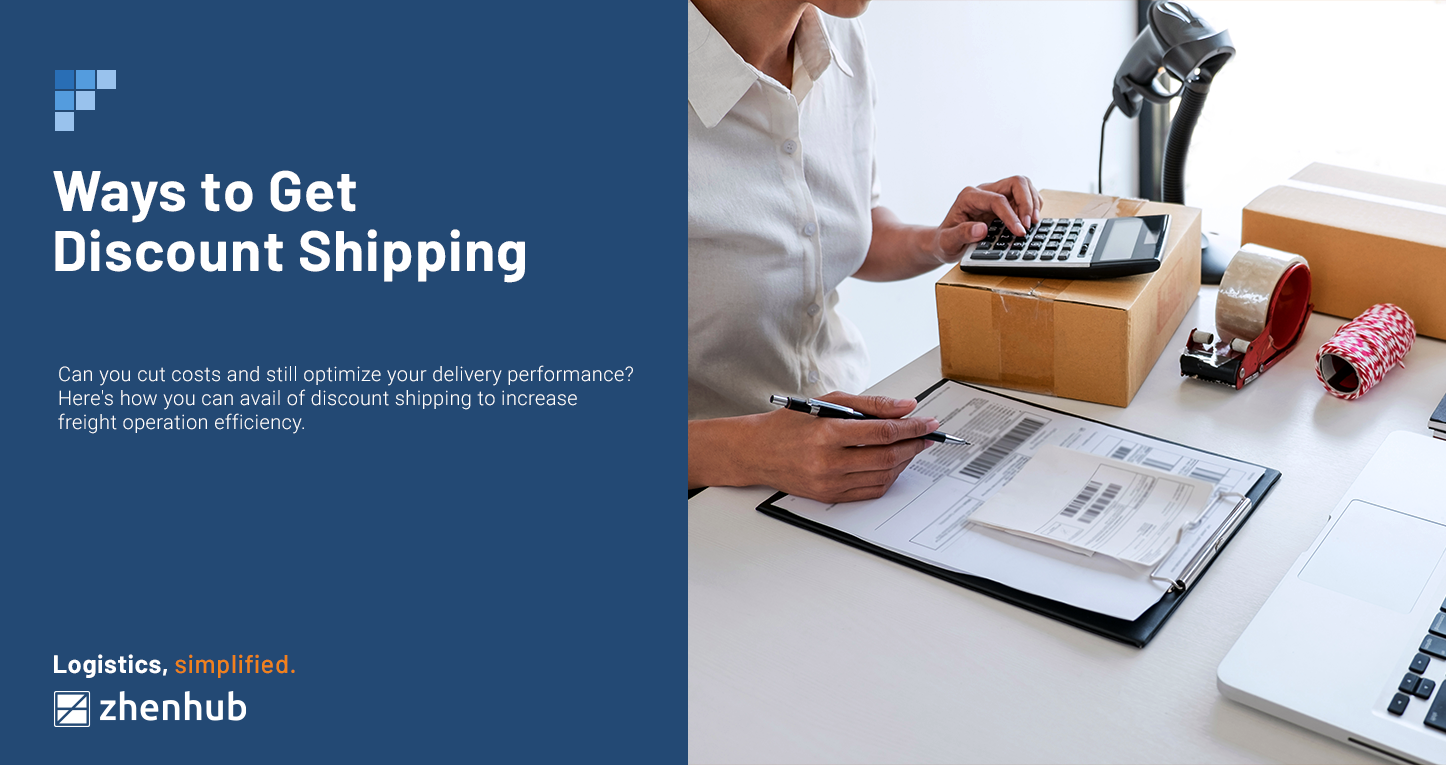 Shipping is critical in any eCommerce operation. The main draw of eCommerce to consumers, after all, is the convenience of having products shipped directly to their doors. Nevertheless, online shoppers have become more demanding over the last few years. They expect shipping not only to be quick but also free. Discount shipping is a priority for most retailers to accommodate consumer expectations.
Sixty-five percent (65%) of consumers abandon their carts if shipping becomes too expensive. Shipping, especially last-mile shipping, in particular, accounts for more than 50% of the total shipping logistics costs. Offering free shipping without accounting for the hefty expense of delivery can reduce a company's profit margins.
Thankfully, there are ways to cut logistics expenses and enjoy discount shipping. Read on to find out the best ways to reduce logistics costs and negotiate on delivery prices:
3 Ways to Get Discount Shipping
There are plenty of shipping discounts available for small and medium businesses. Retailers need to be aware of the options that they can take to maximize savings:
Partnering with the Right Carrier
Almost all major carriers offer discounted shipping for eCommerce businesses. Most delivery companies provide their services with huge savings given a minimum number of packages. Different providers offer a variety of discounted packages:
UPS offers discounts of up to 50% depending on the number and the frequency of the package deliveries. For SMBs with an order count of at least ten every six weeks, UPS provides 30% savings.
FedEx not only offers discount shipping but also has a rewards program for small businesses. Retailers can expect savings of up to 30% with this carrier. In Europe, a 40% account opening discount is currently available and a 10% off shipping rate for orders sent to the APAC region.
Retailers have the option to open a business account with DHL to enjoy 30% off on international shipments. Additionally, DHL patrons have access to On-Demand Delivery services that allow customers to choose the best shipping option for them.
The USPS has a great loyalty program for US-based businesses. At the time of writing, for every $500 spend, customers get entitled to a $40 credit.
The Royal Mail offers free collections for retailers in the UK that spend at least $23,000 a year. Retailers also get free labels and a dedicated accounted manager for the same minimum yearly spend.
Discounts by Country
Similar to carriers, several countries also offer exclusive discounts for small businesses. Most of the discount shipping does not require a high volume of orders.
Retailers can enjoy discount shipping from 13% to 40%, depending on the carrier and shipping destination in the US.
Hermes offers discounts of 20% to 40%. At the same time, DPD offers 40% on their delivery rates.
Outsourcing Logistics
Choosing a third-party logistics provider is another way to cut costs on shopping and delivery. Most providers already have agreements with local and international carriers, and these savings often get passed on to the retailer. Partnering with a third-party provider is an investment. But the pay-off and returns go beyond discount shipping.
Factors to Consider When Choosing a Shipping Partner
As with all business decisions, choosing the least expensive option is not always the best recourse. There are several factors that a retailer needs to account for before making a choice:
Understanding how a carrier computes shipping costs is the first step in securing shipping discounts. Delivery fees are often the sum of shipping-related charges, parcel handling fees, and tax and duty-related expenses.
At present, customers want instant gratification. The sooner they get their parcel, the more satisfied they are with a retailer. The reliability of a carrier is crucial to customer satisfaction. It's prudent for retailers to partner with logistics providers who can transport packages to the customers within two days.
Problems and issues arise despite the diligence of most retailers. Packages can be damaged and lost during transit. Likewise, refunds and returns are an inevitable part of doing eCommerce business. The suitable carrier provides ample support from a dependable carrier partner.
Importance of Finding Discounts on Shipping
The eCommerce industry boomed over the last few years. It is the only industry that grew significantly even at the height of the pandemic. The industry may be saturated, but it is up to retailers to find ways to remain competitive.
Fluctuation in Shipping Rates
Fluctuations in shipping prices aren't new. Even before the advent of eCommerce, global demand and inflation affect the cost of delivery. Securing carrier discounts is a smart business move for any retailer because these discounts protect their bottom line from global economic shifts.
As eCommerce becomes a modern world norm, carriers are slowly moving away from standard flat-rate boxes. This shift allows retailers to save significantly; they don't need to pay fees for smaller parcels than traditional boxes.
More Options, Higher Fees
Shipping fees increase as retailers tack on more features to their parcels. For instance, there are carriers that charge fees for insurance, signature delivery, and tracking. Securing a shipping discount allows a retailer to enjoy additional features without hiking shipping costs too much.
Eighty-four percent (84%) of customers reported making purchases because the shipping is free. Retailers must accommodate this shift in consumer behavior to keep up with expectations. Shipping discounts make it less risky for small businesses to offer free shipping as it only passes on the savings to their customers.
In conclusion, shipping can eat up a considerable chunk of a retailer's revolving budget if they forgo delivery discounts available to them. The right logistics provider can give you the leverage that you need to secure discount shipping. ZhenHub's tech-based logistics solutions can make offering free shipping to your customers possible for your operation. Reach out to us today and request a quote.
Share Article