What we do at ZhenHub
Time to read:
4
minutes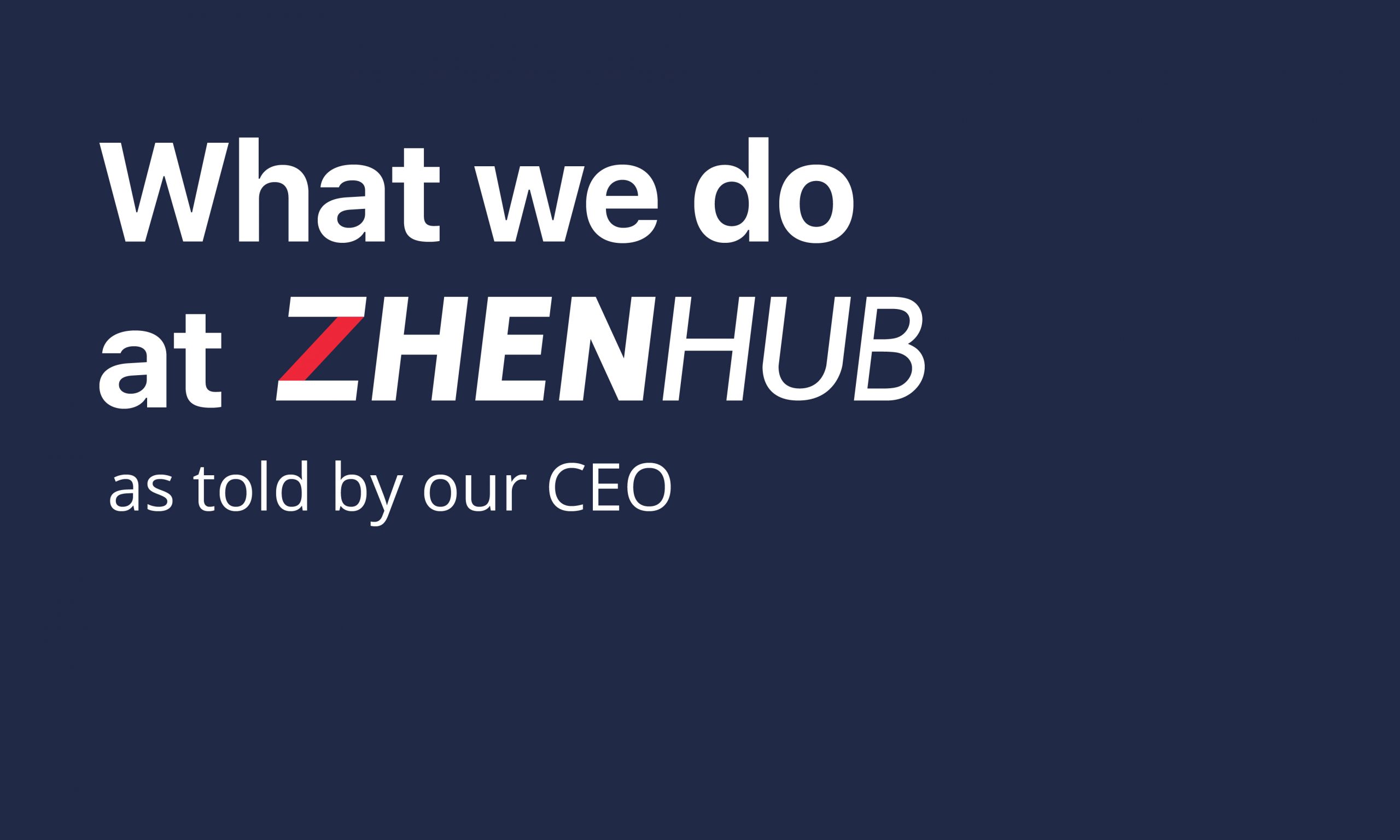 Reading time: 2min 30s
I'm frequently asked the question "what does ZhenHub do" but, truth be told, it is not as simple as being classified as the "Airbnb of Warehousing or Fulfillment." So I decided to attempt to write a short concise piece about the inner workings of ZhenHub.
Traditional logistics is becoming obsolete – inventory management on paperback and spreadsheets are long outdated. With platforms like Amazon, Shopify, and Magento, ecommerce has shaped the modern logistics industry. The modern retailer needs shipments on demand with flexibility and quick responses.
I want you to picture a business that sources products from China and needs to transport goods from their factory to a warehouse in Los Angeles or directly to businesses and customers around the US. If this batch of products weigh more than 200 Kg, you probably would not hand it to DHL, UPS, or Fedex to help you ship it. Instead, the business would have to push it through a network of freight forwarders, warehouses and truckers who all still conduct their operations over phone, fax, excel spreadsheets, paper and even snail mail at times.
The logistics industry is clearly still very backward.
Through our online application and system, ZhenHub coordinates all of these moving parts and helps our customers move goods around the world from A to B seamlessly. There is no single company big enough to own every single warehouse, truck, train, courier, cargo plane, ship or container (not even DHL) in every single country, city or suburb in the world. That's why freight forwarders and third party logistics companies must use multiple assets to move your shipment.
For any shipment, you are using the assets of multiple companies without even knowing it.
Now imagine one simple shipment of international cargo from Shenzhen to Los Angeles. Your freight forwarder would have to find a truck in both countries, book air or ocean freight, organise  customs clearance at both ends, arrange for goods to be stored or sorted at warehouses and, finally, last-mile delivery. Of course, all of this needs to be done while securing competitive rates, communicating clearly the logistics plan, and executing on it with multiple parties ALL via phone calls, emails, faxes and pieces of paper.
Logistical operations are currently time consuming and inefficient.
At ZhenHub, we are building a software to automate operational inefficiencies and, at the same time, provide clear communication, real time tracking, and logistical budgeting through our dashboard. We believe we are not only reducing the amount of time and manpower required, but also providing a great user experience for businesses moving freight. We ensure data integrity, communicate clear checkpoints the freight has gone through, and provide oversight of your shipment. Through our online platform, businesses have more visibility and control over your entire supply chain.
ZhenHub is a blend of technology and human relationships.
We are not just about our software and technology. ZhenHub also has a very experienced team of experts and customs brokers who ensure the smooth flow of shipments globally. Our team understands the value of human relationships with our clients and partners in building our business. At the same time, our team relies on technology to operate more efficiently and provide full visibility of the supply chain.
ZhenHub is currently building developing an internal Artificial Intelligence that will enable our operations to have logistics and ecommerce insights into every country. We believe the world is only getting smaller & smaller and global trade will only become easier & easier.
Our experience in logistics coupled with our developments in technology have allowed us to provide a better experience, more competitive rates and smoother freight shipment. With the complexities of logistics, the traditional players have found it difficult to map out and make sense of the different players, factors and services. This has left the logistics industry virtually untouched by technology.
ZhenHub is different from our competitors.
Our focus on technology allows us to lower transaction costs, ensure data integrity, provide visibility over the supply chain, and build a vast database of knowledge of taxes and customs duties. Put simply, the technology simplifies the complexity and provide clear user friendly overview of the entire supply chain.
1. Technology
The logistics industry is virtually untouched by technology. From booking trucks and freight to simple day to day communications, there is a lack of processes, standards, and coordination. ZhenHub's technology allows businesses to have full visibility over their supply chain through a single online application – something virtually unheard of in the logistics industry. This means, we have now automated the communication, ensured data integrity across the entire supply chain and enabled real time visibility over stock and shipments across the globe.
2. Price
ZhenHub's technology has enabled us to automate a lot of the typical transaction costs, manpower and inefficiencies in the supply chain. As such, we are able to lower our cost and pass on these cost savings onto our clients. A more nimble and tech-driven company like ZhenHub is also able to lower margins on shipping because operations have been automated compared to a traditional logistics firm.
3. Service
Most importantly, ZhenHub's online application can now provide clients with real-time updates on the status of cargo and shipments. Clients get a simple overview of all their global shipments 24/7. This lessens the load on our customer service team and allows our company to focus on the critical parts of the supply chain that do rely on human interaction such as customs, international regulations and constant unforeseen global events that may affect the supply chain. So if, at any time, unforeseen issues or circumstances do happen, our team is well equipped to provide instant feedback and resolutions. This drastically enhances our ability to provide the best service available in the industry.
I hope you are able to get a glimpse into the inner workings of ZhenHub. Helping this industry come into the digital age is something we are passionate about and continuously working towards. We believe our clients should always be receiving the best.
Share Article