The Complete Warehouse Equipment Checklist: Things to Consider When Choosing a Warehousing Provider
Time to read:
4
minutes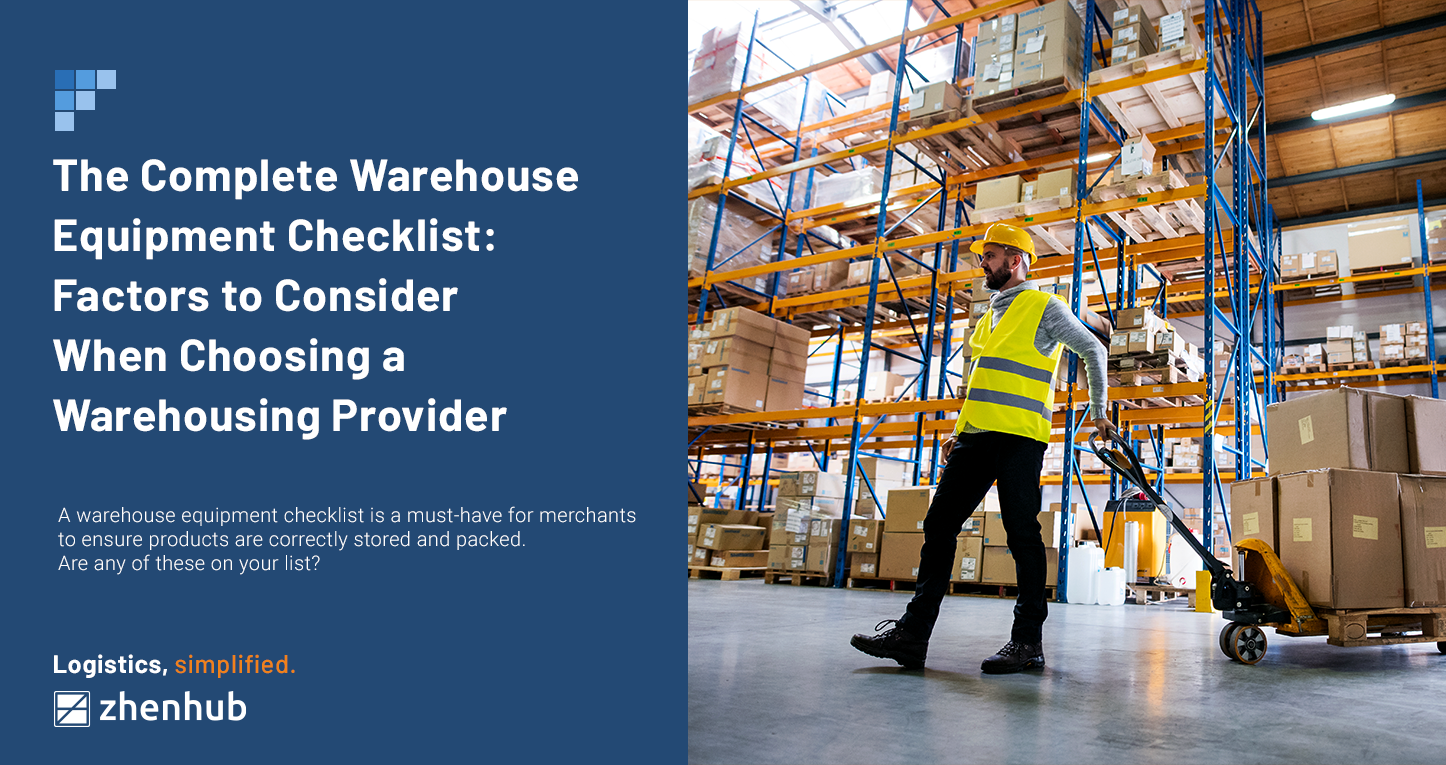 In today's dynamic eCommerce climate, warehousing involves more than having ample space for inventory storage. The right warehousing partner can significantly optimize the entire supply chain process. To run smoothly, most facilities have a warehouse equipment checklist that outlines equipment requirements necessary to manage a successful warehouse operation.
A warehouse equipment checklist can be varied. This article explores OSHA regulations, the importance of using a warehouse equipment checklist, and the specific tools that are warehouse non-negotiables.
OSHA and Safety Regulations
The Operational Safety and Health Administration, or OSHA, is a regulatory agency based in the United States tasked to protect workers from health and safety hazards in the workplace. Since its institution in the 1970s, the governing body has provided safety regulations that all workplaces must follow.
In terms of warehouse equipment checklists, OSHA has several provisions that warehousing facilities need to abide by. One provision details guidelines as to the property use of industrial trucks such as forklifts. The code forbids workers from driving an industrial vehicle towards another person. Moreover, the provision also requires an unattended forklift to be powered entirely off for safety purposes.
OSHA also has guidelines for warehouses that deal with hazardous materials. The agency requires operators to provide a wash station for workers that come in direct contact with corrosive materials. A fire extinguisher also has to be within 10 to 25 feet of the storage container that houses hazardous chemicals.
The provisions above are just a tip of the proverbial iceberg that is the OSHA requirements. Nevertheless, any warehouse equipment checklist should abide by the standards.
The Complete Warehouse Equipment Checklist
Warehouse equipment checklists commonly cover general warehouse safety, production equipment, and loading dock safety equipment. Details are listed below:
General Warehouse Safety Equipment
Working in a warehouse, like any demanding occupation, requires following safety protocols. Professionals need to work with industrial vehicles and pallets of merchandise. A small error can severely impact workers' health and safety. As such, below are a few essential safety tools that all warehouse equipment checklist should have to ensure that all employees remain unharmed:
As with most aspects of running a warehousing operation, there are standards items in a first aid kit. But there are two classifications of first aid kits: Class A kits and class B kits. Both kits contain bandages, burn treatments, and alcohol or any other antiseptic. However, class B kits include specialized tools if an accident happens in a warehouse with additional safety risks.
Two general types of rails should be present in every warehouse: barrier rails and handrails. Barrier rails protect structures from possible damage due to mishandling of industrial vehicles. Consequently, railings prevent slips and falls in the production area of a storage facility.
When it comes to working in a busy warehouse, seeing everything at all angles is imperative. Safety mirrors allow employees visibility, especially in high-traffic areas. More visibility can prevent accidents.
Barricades are helpful tools for restricting access to an unsafe area. Some areas in a workhouse may be off-limits due to ongoing construction or safety risks. That's when foldable barricades get used. However, magnetic barriers are also a low-cost alternative.
Anti-Slip and Anti-Fatigue Mats
Workers that have to stand for long periods are more prone to accidents. The longer they stand, the more exhausted they become, the greater their chances of slipping or falling. Anti-fatigue mats soften a hard surface. It provides necessary comfort for employees that are within the production area most times.
Hard hats are a requirement for warehouses that expose employees to hazards that can come from above their heads. This particular equipment is essential for storage facilities that use forklifts to transport products.
Safety signs might seem pointless, but they are effective safety tools. High-traffic areas, in particular, should be outfitted with safety signs. It is vital to make these safety signs visible to everyone.
Warehouse Productivity Equipment
More than safety, a warehouse equipment checklist should also include tools that increase a storage center's productivity. After all, a productive warehouse is instrumental in driving the success of an eCommerce operation. Tools that encourage productivity are investments.
Effective Pallet Solution
Storing inventory requires more thought than just piling merchandise on top of each other. An effective pallet solution enables an eCommerce operation to know the status of its inventory. Moreover, pallet systems make it easy for the workforce to pick and pack orders.
Material Handling Equipment
Sorting and storing products manually without industrial equipment is laborious as it is tedious and can put a tremendous drain on resources and time. Investing in industrial machinery like forklifts, pallet jacks, and hand trucks can cut labor hours significantly. They are essential tools that most storage facility managers include in their warehouse equipment checklist.
Conveyors are a specific type of material handling equipment. It is a machine that takes cargo from one side of the warehouse to another. It plays a role in significantly speeding up receiving inventory and disbursing parcels ready for delivery.
Loading Dock Safety Equipment
Most warehouse managers agree that the loading dock is the area in the facility where most injuries occur. To avoid these accidents, the equipment listed below should be present in all warehouses:
Accidental movement when operating an industrial vehicle can injure both the driver and the people around it. Wheel blocks and wheel chocks prevent machinery from unintentional movement. Both the operator and the warehouse manager need to have wheel blocks on hand if a piece of equipment malfunctions.
Loading docks require more than just overhead lighting to ensure workers' safety that spends time in the area. Warehouses must have dock guide lights installed in this area to provide visual assistance to drivers trying to deliver inventory or accept parcels ready for shipping.
Key Takeaways
Warehouse equipment checklists vary from one facility to the other. Nevertheless, at the heart of every list is the workers' safety and optimum productivity of the entire operation. While there are more than 2.9 million businesses that engage in transportation and warehousing, ZhenHub can help you get that one partner that's right for your operational needs.
ZhenHub can help you determine the right tools and equipment for your warehousing needs. Our main goal is to provide software, warehousing and fulfillment, and shipping solutions to get your products from A to B seamlessly. Download the complete warehouse checklist here and sign up to fully experience our technology-based logistics solutions.
Preview

Share Article