5 Benefits of Direct Injection Shipping (Updated 2020)
Time to read:
3
minutes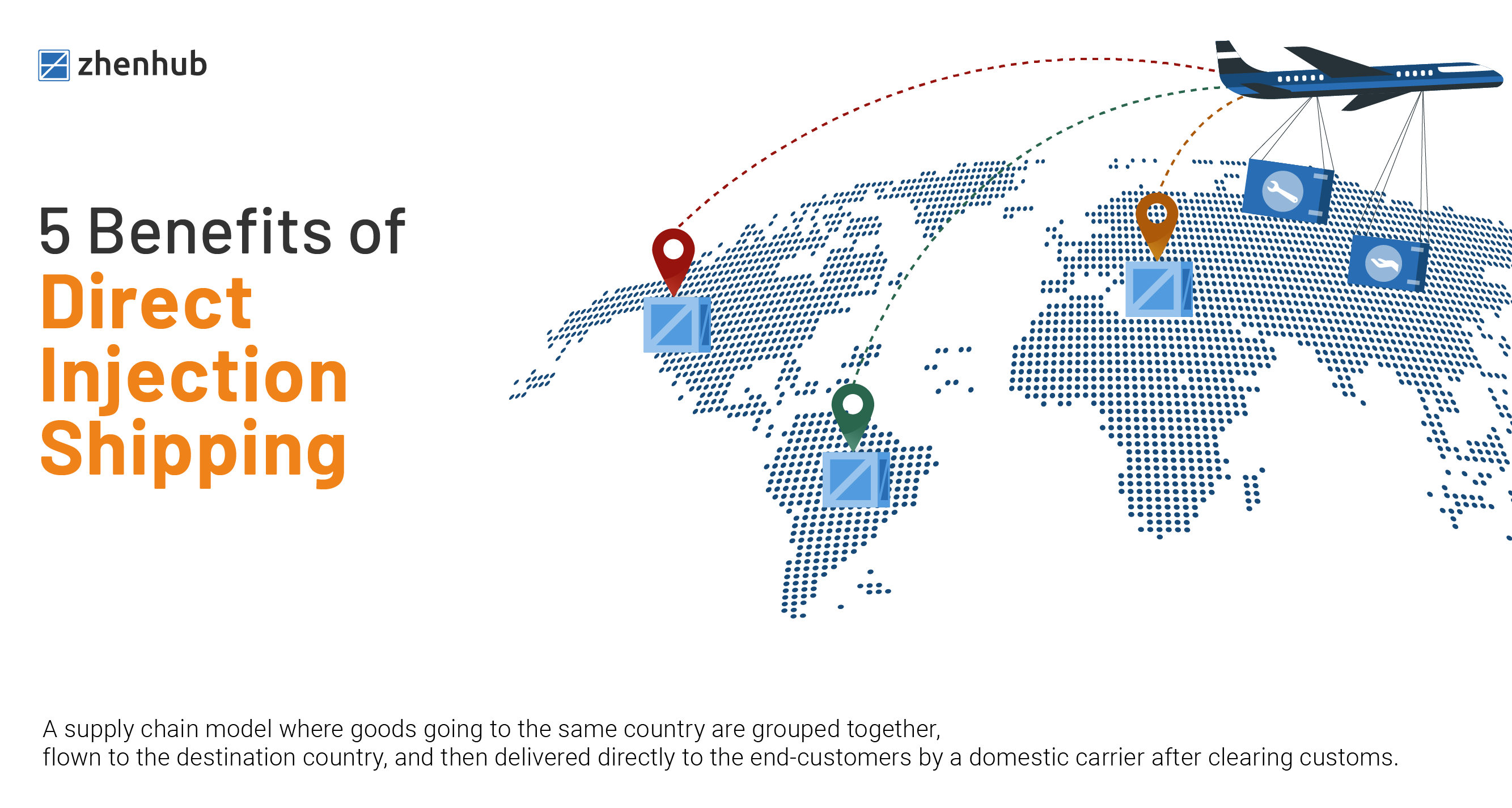 Local merchants today demand faster and cheaper eCommerce shipping and delivery that is also trackable. 
In response, the logistics industry introduced a supply chain model that can reduce logistics costs without affecting timeframe: Direct Injection Shipping.
What is Direct Injection Shipping?
Direct Injection Shipping is a supply chain model where goods going to the same country are grouped together, flown to the destination country, and then delivered directly to the end-customers by a domestic carrier after clearing customs.
Main Features of Direct Injection Shipping
Direct Injection Shipping has three key features: 
Shipping of consumer goods are done in bulks via air cargo
Every order's last mile shipping labels are applied based on the consumer goods' point of origin.
The importer of the consumer good is tagged as the customer, not the online merchant.
How does Direct injection Shipping Work?
Direct Injection Shipping is actually quite simple. With this method, online retailers can circumvent traditional courier services and supply chain methods. Here's how it works:
Consumer good is packed and prepared at its origin point, where paperwork also gets filed and destination shipping label is applied.
Consumer good is then sent to a consolidation facility where it will be grouped with other orders which are meant to be delivered on the same destination.
Consumer good is shipped via air together or "bulked" with the other orders.
Consumer good is electronically cleared for customs at the destination.
Consumer good is then forwarded to a local postal or courier service which will deliver it to the customer.
Benefits of Direct Injection Shipping
Import or Customs Duty Exceptions
This is especially true for local merchants who regularly ship to the US. Section 321 Information Entry Exception states that individual orders of less than $800 are exempted from import duties.
Faster Delivery
It offers quicker delivery than regular postal services since goods are typically flown to the destination country on direct flights. It also allows the pick & pack process to be handled in the country of production, which is much cheaper, particularly in Asia.
Affordability


Direct Injection Shipping offers competitive rates because the model is based on grouping various eCommerce businesses' goods going to the same country together to lower the overall per kilogram shipping rate (in logistics, the larger the volume, the lower the shipping rate).

Customer Satisfaction
Since Direct Injection Shipping features both speed and lower costs, it's a great way to please customers who consider these factors before purchasing consumer goods online.
Scalability
Speed and lower costs are also beneficial for business owners. With less expenses to worry about and more flexibility in terms of time, it will be easier for even smaller retailers to expand their business.
Direct Injection Shipping: FAQs
Is Direct Injection Shipping trackable?
Yes, it is completely trackable. However, since different portions of the delivery process are handled by different carriers, each carrier provides the tracking details of the relevant portion only.
For the first portion of the delivery, tracking details are provided by the airline flying the goods to the destination country.
Once the goods are handed over to the domestic carriers, tracking details for last-mile delivery are provided by the domestic carriers themselves. Tracking details for this portion may occasionally experience delays, especially if handled by the local postal service.
Is Direct Injection Shipping available for every country?
It is contingent on volume, so only countries with large volumes (countries with lots of goods flying in and out) can support this model.
Is there a minimum volume requirement to ship using Direct Injection?
No, there is no specific volume requirement, so it is totally okay to ship only one package through this method.
ZhenHub's Direct Injection Shipping
ZhenHub currently offers Direct Injection from China or Hong Kong to the following countries:
| | | |
| --- | --- | --- |
| Australia | France | Germany |
| Italy | Ireland | Portugal |
| Spain | United Kingdom | United States |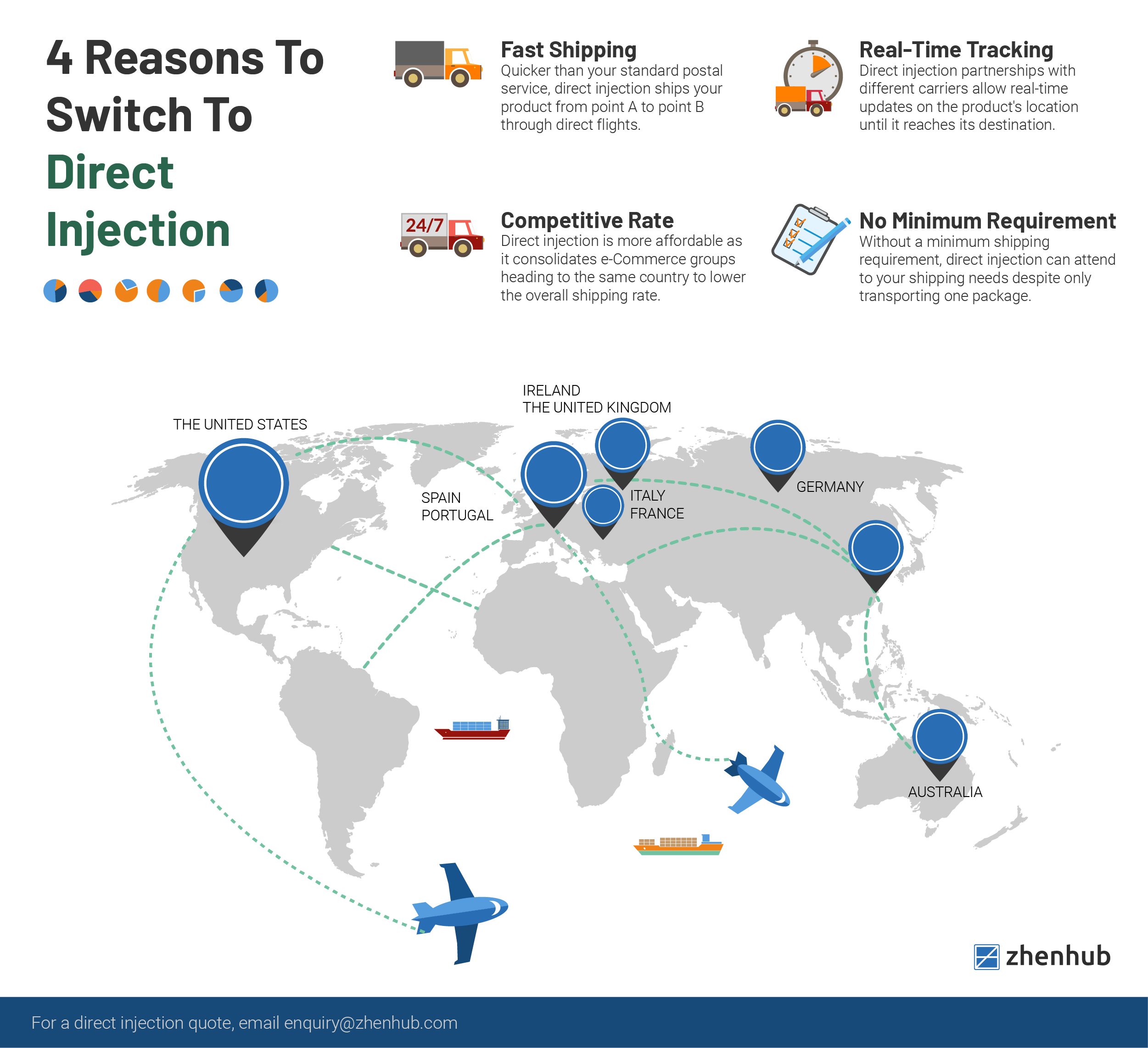 To get a quote on our Direct Injection Shipping services, feel free to contact us or email us at enquiry@zhenhub.com
Share Article