ePacket Tracking Explained: 2021 Update
Time to read:
4
minutes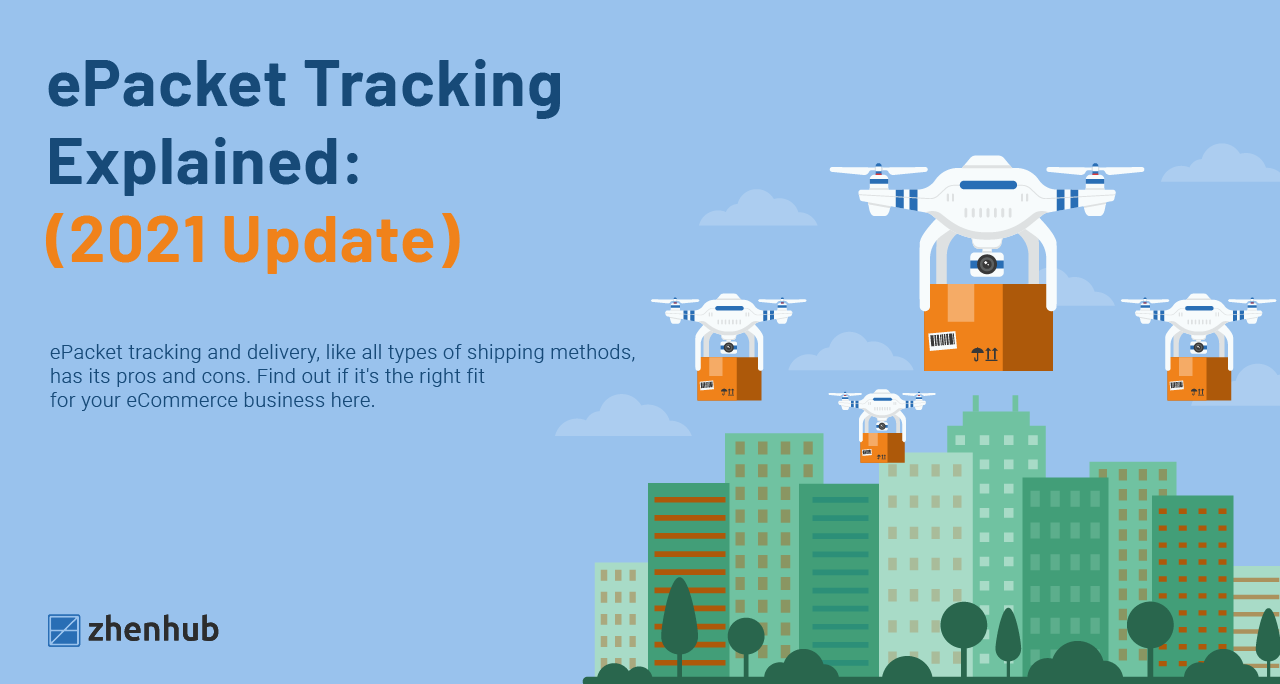 ePacket Tracking
eCommerce made the world smaller. In today's marketplace, retailers have more reach, and consumers can purchase products from overseas. It will be one of the most lucrative markets as online revenues could reach 6.54 trillion US dollars in 2022  
But with so many retailers out there, eCommerce sellers need to maintain a competitive edge. That means an efficient order fulfillment and shipping process are essential.
Delivery time is a substantial factor that determines customer loyalty. Studies say that 40% of customers are more likely to repurchase from a brand if the parcel arrives at their door on time. Consequently, 84% of shoppers would no longer patronize an online shop after one lousy shipping experience. Simply put, the faster the order gets to the customer, the better. 
The world has grown dependent on Chinese manufacturers, and for the past year, deliveries coming from the continent have increased. In December 2020 alone, China Post delivered more than two million parcels with ePacket delivery as the preferred shipping option. What is ePacket, and why are companies using it? Read on to find out more about ePacket shipping, ePacket tracking, and the benefits of this eCommerce shipping method. 
What Is ePacket Tracking Delivery?
In the past, retailers that stock inventory manufactured in China had limited options when it comes to shipping products. China EMS, the most affordable option, is notoriously slow, with shipping times taking as long as two months. Quicker alternatives are expensive, especially for products that are hefty in weight. 
ePacket delivery came about in 2011 and quickly became the fastest and affordable shipping option for retailers stocking inventory from manufacturers based in China and Hong Kong. This shipping service is a product of an agreement between the US Postal Service (USPS) and Hong Kong Post. At present, ePacket delivery is available in more countries outside of the United States. 
How does ePacket Tracking work?
Delivering an ePacket parcel entails a few key players. At the onset, local Chinese carriers pick up packages from the manufacturer and bring them to the border. Afterward, these products get shipped to the destination country via an international carrier. A local provider in the destination country picks up the package and delivers it to the customer. 
Depending on the destination, ePacket deliveries usually arrive at their destination in 10 to 20 days. Customs and import duties and other tax payments vary from location to location. 
What are the Requirements for ePacket Tracking Deliveries?
ePacket deliveries are a great option for eCommerce companies. This shipping method enables them to source the most affordable products without hefty delivery fees. Nevertheless, there are some item restrictions using ePackets:
The total weight allowed for ePacket parcels cannot exceed 2 kilograms or 4.4 lbs, including the item, the packaging, the fillers, protective wrap, and the box. But in Israel, the maximum weight allowed is up to 3 kilograms or 6.6 pounds. 
The ePacket shipping service is only available to items worth $400 and below. 
A regular ePacket parcel should be at least 14 centimeters long and 11 centimeters wide. If the item is smaller than the minimum size, retailers must pack the products in a box within the dimension requirements. 
Consequently, parcels should be 60 centimeters at their longest. The sum of the length, width, and height should measure 90 centimeters or less.  
What are the Benefits of Using ePacket Tracking Delivery?
ePacket tracking and delivery changed the way retailers procure their inventory. This option explicitly targets eCommerce companies making shipping and delivery affordable for both the retailers and the consumers. 
Shipping items from China to the US is made more affordable by the ePacket service. The lower shipping rates and the faster turnaround time allow retailers to price their items more competitively. 
Before ePackets, retailers had two choices: fast but expensive shipping or affordable but slow delivery. With a shipping time guarantee of 30 days or less, ePackets offer the quickest option with the best pricing. 
End-to-end ePacket tracking
For retailers, the ability to track parcels from the manufacturer to the customers is one of the biggest, if not the best, benefits of the ePacket service. This level of transparency comes at no additional cost.  
Customer-Shouldered Postal Customs
Custom/duties/tax payments are difficult to compute, especially when shipping to various countries with different guidelines. ePacket shipping takes the hassle away from the seller with the Customer-Shouldered Postal Customs option. 
What are the Countries that offer ePacket Delivery?
At the time of writing, ePacket tracking and delivery are available in 42 countries. However, there are some limitations to the shipping option in some areas:
| | | | | |
| --- | --- | --- | --- | --- |
| Australia | France* | Luxembourg | Poland | Switzerland |
| Austria | Germany | Malaysia | Portugal | Thailand |
| Belgium | Greece | Malta | Russia | Turkey |
| Brazil | Hong Kong | Mexico | Saudi Arabia | Ukraine |
| Canada | Hungary | Netherlands | Singapore | United Kingdom |
| Denmark | Indonesia  | New Zealand | Spain | United States |
| Finland | Ireland | Norway | Sweden | Vietnam  |
The ePacket service is on a trial run in Indonesia, Kazakhstan, and Vietnam. In France, ePacket isn't available in overseas territories, including Corsica, Guadeloupe, Martinique, French Guiana, Reunion, St. Pierre, and Miquelon and Mayotte.
How to Track an ePacket Parcel? 
For most retailers, tracking huge orders from overseas suppliers can get complicated. There are plenty of moving parts, and your organization needs to be agile to address shipping problems immediately. That said, one of the biggest draws of using the ePacket service is the ePacket tracking facility. ePacket tracking allows retailers access to end-to-end tracking information. 
There are several ways to track an ePacket parcel. While the shipment is still in China,  China EMS can track it. Once the package is in the US, the USPS website can check the location of the parcel. It is also possible to use third-party tracking services like:

Package Mapping

AfterShip

PackageTrackr

17TRACK
Key Takeaways
The speed of delivery is a crucial part of maintaining a positive consumer-merchant relationship. It can sometimes be a pain but providing a great customer experience is worth it. After all, 87% of online shoppers say that delivery speed is a critical factor in purchasing behaviors. As more of the world embrace eCommerce, the competition will get even steeper. 
An effective shipping and delivery process gives you the edge, mainly if your business model includes dropshipping. 
Incorporating ePackets in your order fulfillment strategy can do wonders for your eCommerce operation. ZhenHub can guide you through maximizing this shipping option. Sign up with us today to learn more about ePackets and other tech-enabled solutions to make your business future-ready. 
Share Article