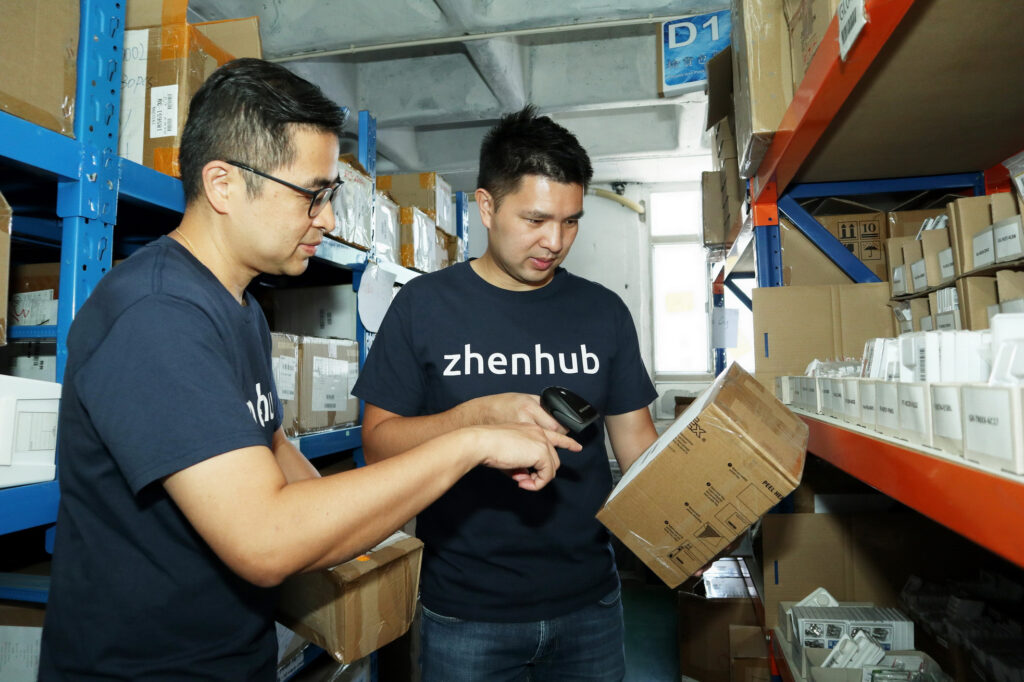 Vincent Poon (right) revealed that the platform has reached cooperation agreements with 28 warehouses around the world. (Photo by Chen Weijian)
The epidemic continues to disrupt the global supply chain, and e-commerce companies around the world are committed to adapting to the "new normal" of logistics. Cyberport has fostered start-ups to develop an intelligent supply chain cloud management system to provide real-time logistics data for e-commerce companies, to help them automatically complete delivery.
ZhenHub Chief Executive Officer and Co-Founder Vincent Poon shares the current situation of logistics in the Guangdong-Hong Kong-Macao Greater Bay Area, as well as future challenges and opportunities.
Chen = Chen Weijian, Science and Technology, Reporter of Hong Kong Economic Journal
Poon = Vincent Poon, CEO and Co-Founder of ZhenHub
Chen: What are the logistics problems in the Greater Bay Area, and how does your platform help e-commerce companies deal with it?
Poon: The rapid development of global e-commerce has caused logistics demand to rise instead of falling under the epidemic. However, there is a crisis of supply chain rupture in the Greater Bay Area from time to time. Earlier, Yantian Port in Shenzhen had to be temporarily closed due to the spread of the epidemic, which led to a suspension of local exports and even a backlog of goods.
Our main business goal is to provide a cloud-based supply chain management platform for e-commerce, allowing customers to purchase storage space around the world, as well as corresponding logistics and freight solutions.
At present, the platform has reached cooperation agreements with 28 warehouses around the world, which are located in Hong Kong, Mainland China, the United States, the United Kingdom, Germany, Singapore, Thailand and the Philippines.
E-commerce can automatically arrange freight routes through the platform, instruct warehouses to process delivery orders, and choose a suitable logistics solution according to the scale, speed and price of freight, or connect existing freight packages to the platform to centrally manage global orders.
In response to the agility of supply chain, we suggest that e-commerce companies adopts a multi-warehouse strategy, supported by our software, to mitigate risks. Taking the Greater Bay Area as an example, customers can choose to store their goods in the warehouses in Guangzhou, Shenzhen and Hong Kong. Even if individual regions are to be closed in the future, there is still a certain amount of goods available for export.
In addition, our cloud service provides real-time data on logistics and freight. Once e-commerce companies encounter emergencies such as city lockdowns, they can immediately move their goods to other ports, or even ship them by air at a higher cost.
We have noticed that during the past period of the epidemic, if companies can export goods to the United States and other places first, their business growth performance will be more prominent. After all, when competitors are unable to ship, the companies that can supply are bound to win over competition. Even though the related logistics costs are high, it could still be favored by local merchants and the transaction can be implemented.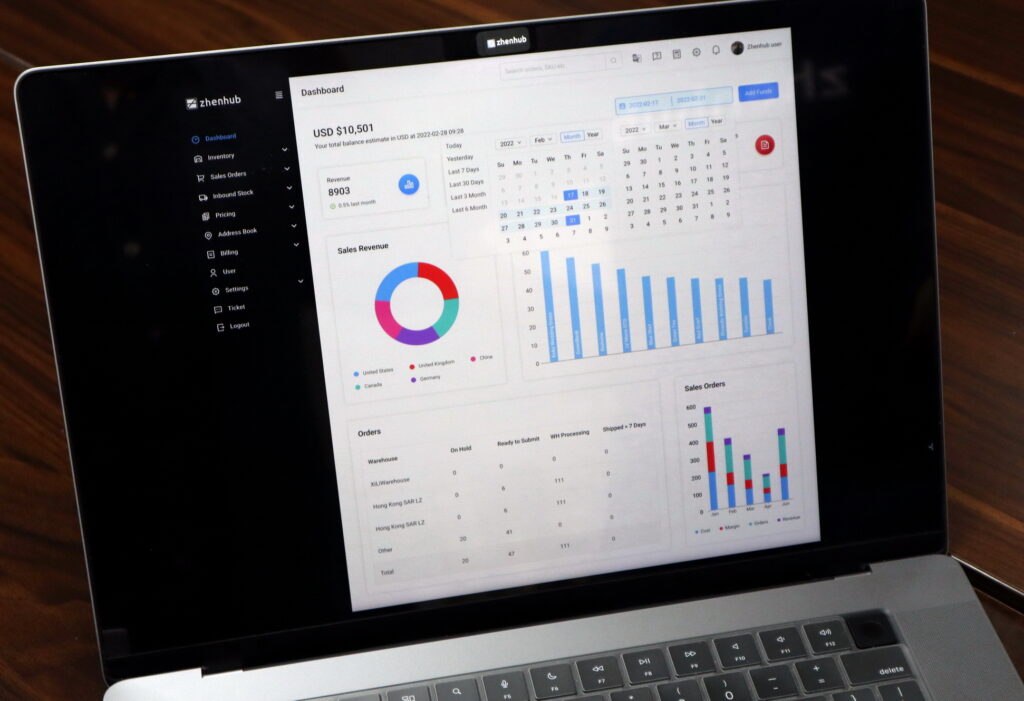 The software system developed by ZhenHub tracks inventory data in the cloud and assists e-commerce companies in automatic delivery. (Photo by Chen Weijian)
IT research and development based in Mainland China
Chen: How does the epidemic affect the company itself?
Poon: There used to be a lot of cross-border cooperation in the logistics industry. In the past, it was usually necessary to meet in person to build a relationship of trust. However, the closure of the borders has greatly reduced the chances for the team to go to other places in person, and it is also difficult to display products on the spot. At the same time, we noticed that more and more companies are willing to negotiate and cooperate remotely throughout the whole process. Even if the two parties have never met, they can also sign contracts remotely. In addition, during the epidemic, the logistics ecological environment has undergone great changes, and enterprises have greater motives to look for new solutions, and their acceptance of innovative technologies is higher than in the past.
At the same time, the company has also developed an enterprise-level Warehouse Management System (WMS), which can assist in the digitalization of traditional warehouses, manage daily inbound and outbound of inventory, and integrate with couriers system to automatically deliver goods, issue orders, generate numbers, and track goods. Warehouses can be connected to our logistics platform through the system to provide freight services to global e-commerce. At present, more than 60 couriers and warehouses use our WMS, including the local express Morning Express , and we also cooperate with Lazada and DSV in Southeast Asia .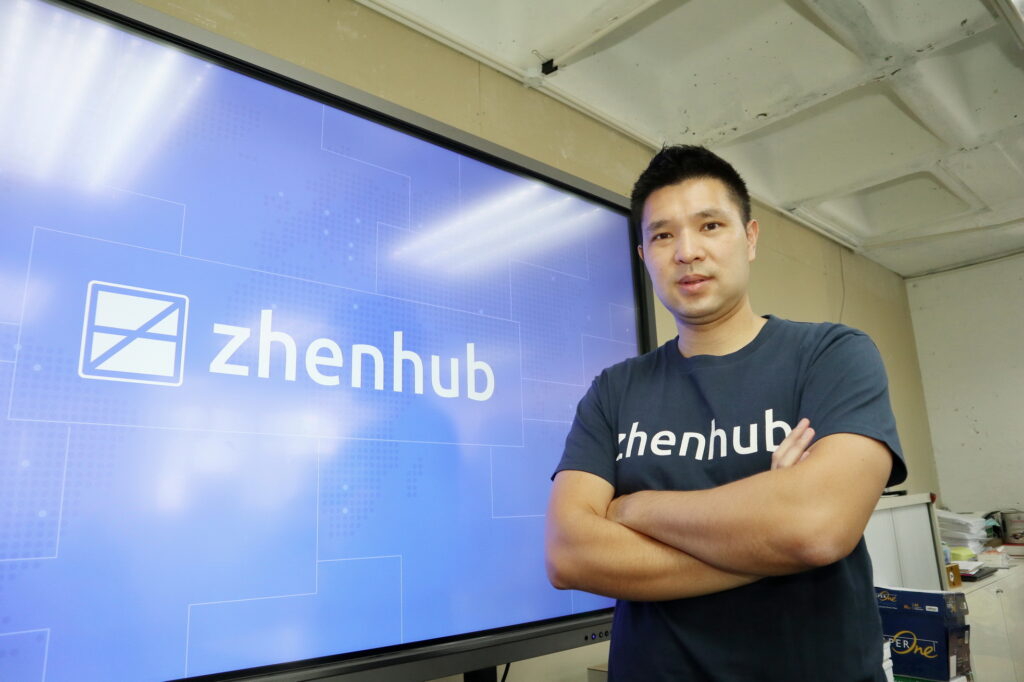 Vincent Poon revealed that the mainland invests in technology research and development, and Hong Kong has time-zone and language advantages, making it competent for high-value jobs such as finance and global operations. (Photo by Chen Weijian)
Chen: The team has offices in both Shenzhen and Hong Kong. Why did you make this decision?
Poon: Talent recruitment is a major challenge for the company. We now have offices in Hong Kong and Shenzhen. Hong Kong is mainly responsible for finance, sales and global operations; the mainland team focuses on technology research and development. This decision was made at the beginning because the Chief Technology Officer of the founding team used to work for Cainiao (菜鸟), a subsidiary of Alibaba ( 09988 ), and was responsible for building its system. He has accumulated many years of experience in the logistics industry and has local contacts in Shenzhen.
Post-epidemic: Market Demand Up in the Greater Bay Area
Chen: What do you think of the supply chain development in the Greater Bay Area?
Poon: Southern China is the largest production base in the world, and the Greater Bay Area has complete supporting facilities for production, raw materials, ports, and freight. Coupled with the region's population of more than 86 million, the post-epidemic consumer market is huge. Foreign brands are doing everything possible to enter China, and it is expected that the demand for logistics in the region will continue to grow. However, enterprises should also pay attention to the uncertainities around the world, and there are still risks related to epidemic such as city closures in the Greater Bay Area. It will not only affect logistics and transportation, but will also have an impact on the local economy. Enterprises should understand that various logistics disruptions are the new normal, and they must consider corresponding solutions in advance, with visibility on costs, and plan routes with real-time data. We should no longer rely on a single mode to deliver goods.
Note: The above guest interviews are all personal opinions and have nothing to do with the position of this newspaper.
Original article from StartUpBeat HK